After a long, hard season of incredible highs, our two late results gained against Aston Villa springing to mind, and crushing lows, like losing at Chelsea having led with three minutes to go, this could finally be the weekend when Stoke's goal for the season is achieved. The goal of course, being confirming our Premier League survival. With West Ham visiting the Britannia Stadium, a win for Stoke, combined with losses for Newcastle and Middlesbrough against formidable opposition in Liverpool and Manchester United respectively, would mean that it would be mathematically impossible for the Potters to go down with three games to spare, got that? With most predicting certain relegation for Tony Pulis's side this season, and the optimistic few daring not to hope for more than a fight right to the wire, this would signal a great achievement to the club. Even if survival isn't confirmed this weekend, it looks like being only a matter of time until it is, with Stoke eight points clear of the relegation zone with just twelve to play for, and looking forward to a run-in easier than most clubs in the bottom half of the table.

Paddy should have waited…his power's over-rated
  When the Hammers and the Potters last met, it was a day that we can look back on as the darkest of our season. After an excellent first half performance by Stoke produced a 1-0 half-time lead, West Ham pulled themselves back into the game, Carlton Cole scoring an excellent equaliser early in the second half. What followed was probably the only incident in my Stoke supporting life with has made me ashamed to call myself a Stokie, with Ricardo Fuller and his captain Andy Griffin, thankfully now replaced in the role by the indomitable Abdoulaye Faye, arguing in the centre-circle, Fuller slapping Griffin across the face and rightly being dismissed for it. West Ham went on to win the game 2-1, and, still mired in the bottom three, celebrations like the one that may be on the cards this weekend seemed a long, long way away. The one thing you need when fighting relegation is unity in the squad, and happily since that day it has been spot on, which I feel is a large part of the reason behind our ascent of the Premier League table.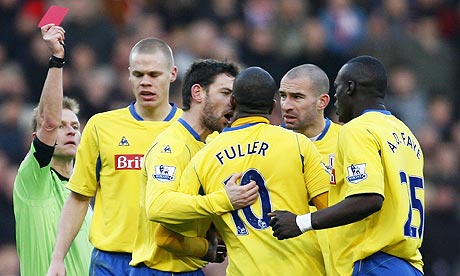 A sorry sight
  Another thing we learned on that day, is that West Ham are a classy side, capable of producing some excellent attacking football. Under the guidance of the charismatic Italian Gianfranco Zola, they too are an upwardly mobile team, pulling themselves out of dire straights both on and off the field to push on up the table.  They are still very much in the running for seventh place and the final Europa League spot, so will be determined to piss on Stoke's celebratory bonfire, and be the first side to come to the Potteries (discounting visitors to Port Vale) and win in 2009. Like so many of the teams who have come to Stoke this season however, I think there's a real chance for us to get under West Ham's skin and pull through for a tenth home win in the Premier League this season.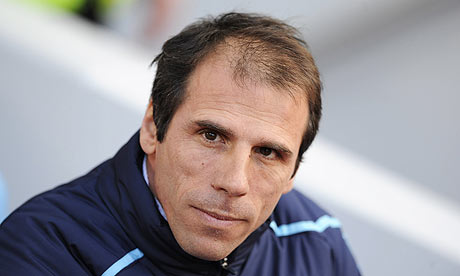 Receding hairline or no receding hairline, Zola has always been a ladies' favourite
  The most significant piece of team news for Stoke in the run up to the match concerns free-scoring forward James Beattie, who, despite being said to be out for the rest of the season, appears to be shaking off his thigh muscle injury and is rated as 50/50 to feature, which is excellent news for Stoke fans fearing another outing for the blunt strikeforce which we saw in the loss at Fulham last week, with Richard Cresswell, who I feel enough has been said about already, playing.
  Meanwhile, Stoke will almost certainly be without first-choice full-back pairing Andy Wilkinson and Danny Higginbotham once again, as both struggle with back injuries, meaning Stephen Kelly and Danny Pugh are likely to continue to deputise. It seems that back injuries are spreading like swine flu in the Stoke camp, as Senegalese midfielder Amdy Faye will miss out once again with his, while his international teammate Salif Diao will again be sidelined with a groin problem. Long-term absentee Mamady Sidibe also remains absent with his knee ligament injury. Former West Ham man Matthew Etherington should continue on the left-wing for Stoke, just days after once again speaking out about how his move away from the bright lights of the capital has helped him overcome the gambling problem that once saw the Hammers board have to advance him several hundred thousand pounds worth of wages so he could pay off his creditors.

Despite losing a leg somewhere between East London and the West Midlands, Etherington has been an immediate hit at Stoke
  There are few clubs at present who could claim to have an injury list as long as Stoke's, but the Hammers are one of them, as they will be without three of their most important players in striker Carlton Cole and midfielders Scott Parker and Valon Behrami, who all remain sidelined, as do Dean Ashton, Danny Gabbidon and Jack Collison, who have ankle, groin and knee trouble respectively. Welsh international defender James Collins has also emerged as a doubt for the game, after suffering a calf muscle strain.
Key Battles:
Ricardo Fuller v James Tomkins
Earlier in the season, while on loan at Derby, twenty year old Tomkins played against Stoke at the Britannia Stadium in a League Cup match which the Rams unexpectedly won 1-0. That night Tomkins was fantastic, winning everything in the air and making some tidy challenges too, while Fuller was dreadful, struggling to make an impact against a middling Championship standard side. A reversal in fortunes for Saturday's game would help Stoke's cause a great deal.
Stephen Kelly v Luis Boa Morte
With Andy Wilkinson looking like missing another game for Stoke, Kelly will probably play and will be looking to improve on his performance with a decent run in the side. The Irish international, who is currently on loan from Birmingham and is either close to signing a permanent deal at Stoke or not wanted by Pulis, depending on who you believe, has been mediocre so far in his time at the Britannia Stadium. He will be keen to boost his chances of earning the permanent move he has said he would be happy to make by keeping veteran, but still tricky, Portugeuse winger Luis "The Dead Snake" Boa Morte quiet.
Liam Lawrence v Herita Ilunga
In Stoke's last home game, right-winger Lawrence enjoyed the last laugh against a Congolese defender, finally breaching the Blackburn defence marshaled by Christopher Samba fifteen minutes from time. He will come up against another in Ilunga on Saturady, the left-back fresh from agreeing to join West Ham permanently after impressing on loan from Toulouse. Lawrence has been steadily improving recently after finally regaining fitness, and will hopefully continue to have a positive effect on Stoke's fortunes this week.
West Ham Squad:
Goalkeepers:Robert Green (29), Jan Lastuvka (26), Jimmy Walker (35), Peter Kurucz (20)
Defenders: Lucas Neill (31), Herita Ilunga (27), Matthew Upson (30), James Collins (25), James Tomkins (20), Jonathan Spector (23), Walter Lopez (23), Danny Gabbidon (29), Bondz N'Gala (19), Ashley Miller (19)
Midfielders: Scott Parker (28), Mark Noble (21), Valon Behrami (24), Jack Collison (20), Luis Boa Morte (31), Kieron Dyer (30), Radoslav Kovac (29), Junior Stanislas (19), Josh Payne (18), Tony Stokes (22)
Forwards: Carlton Cole (25), David Di Michele (33), Freddie Sears (19), Diego Tristan (33), Savio Nsereko (19), Dean Ashton (26), Zavon Hines (20), Jack Jeffrey (19)
Star Man: Scott Parker
Despite being injured and probably set to miss Saturday's game, Parker is still the player I identify as West Ham's most noteworthy. The 28 year old centre-midfielder has really flourished with the East Londoners sice making the move from Newcastle two years ago, and has been a key member of Zola's successful side this term. Parker, who as a child starred in a McDonald's advert, began his career at Charlton Athletic in the late 1990s, before moving to Chelsea for £10 million in 2004. He never really experienced a sustained run in the first team at Stamford Bridge though, and was soon on the move again, joining Newcastle for £6.5 million a year later, before switching to the Hammers for £7 million. In total, he has played 52 times for the club, scoring twice. He also has three full England caps to his name, gained while at three different clubs, having made his international debut when at Charlton in 2003.