Yesterday afternoon, I was greeted by the unwelcome news that after tearing his thigh muscle, Stoke's most potent striker James Beattie, who has scored six goals in twelve games for the club, an excellent return for a new player in a struggling side, will definitely be ruled out for today's game at Fulham, probably for the next three weeks, and possibly for the rest of the season. Eight points clear of the Premier League relegation zone with five matches to play, relegation looks very unlikely for the Potters, and it is fair to say that just one or two more points, if any, will be needed to secure our top flight status for next season. Those points will seem a large bit harder to come by without Beattie in the side though, and it will be necessary for whoever replaces him to step up to the plate with some good performances.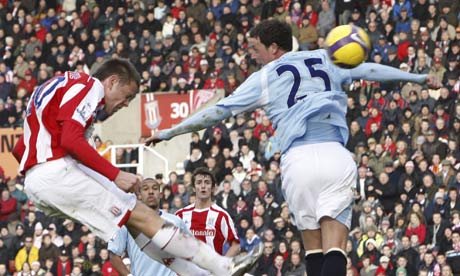 Beattie's goalscoring has been a large factor in Stoke's rise away from danger
  So, who will play in his place? Last minute injuries aside, it's all but certain that Jamaican forward Ricardo Fuller will retain his place in the Stoke attack, but with usual first reserve striker Mamady Sidibe out for the next eight or nine months himself, Tony Pulis will have to call on one of a number of slightly dodgy striking options.
  The most obvious choice is Senegalese forward Henri Camara, who is on loan from Wigan, but he has hardly impressed during his time in the Potteries, with his first-team action limited to substitute appearances and his performances in the reserves being poor. I'm only speculating, but I get the idea that he and Pulis haven't really hit it off since his move, and with Camara carrying a slight knock himself, and having made a trip back to Senegal in the week for personal reasons, it seems unlikely he will start.

The on-loan Henri Camara is one option for Stoke
  It is often said that Stoke striker/winger Richard Cresswell is in possession of some very compromising photographs of Pulis, thus explaining why he is anywhere near the first team, and it seems as good a reason as any as to why the 31 year old former Preston man has been repeatedly brought on as a substitute this season, and even made a few starts. Seriously though, Cresswell lacks all the aspects needed to be a Premier League striker, his pace is gone, his strength seems to have lessened and his finishing's been poor, scoring just one goal in fourteen starts and sixteen substitute appearances this season, that being at Cheltenham in the League Cup back in August. We all know that Pulis likes players who work hard, and this is probably the reason why he persists with Cresswell, though given the magnitude of the negative points about him, it's hardly a good one. 
  I'm not one of the Stoke fans to give Cresswell a huge amount of grief, and I am thankful to him for his twelve goals last season, which played a big part in our promotion, but sadly now, it is my, and most other Stoke fans' opinion that he is simply not good enough for this league any more. That's why it disappoints me to say that he's the most likely to start today, particularly after he completely failed to make an impact against Fulham's Brede Hangeland when he came on after five minutes in the return fixture in December.

Little of last season's joy has been reproduced for Cresswell, who may well start today
  A third, seemingly strange, but actually viable alternative that has been touted for Pulis would be to play Nigerian midfielder Oluwasey Olofinjana, AKA George, who has been on the fringes of the side recently, in a second striker role, just behind Fuller. On the face of it, this would be a bizarre move, but when you think about it, it starts to make sense. He is good in the air, and could be the target man often used to feed Fuller, and also a good passer of the ball, so would provide a decent link between the midfield and the attack. Finally, as we have saw so prolifically against Everton earlier this season, he knows where the goal is. In fact, during his time at Wolves, he often played in the second striker role, finishing as the club's top scorer for the 2006/07 campaign, when they made the play-offs. If a little more steel to the midfield is recquired at any stage of the game, he could also easily to drop back to form a five man midfield with Fuller leading the line on his own. In fact, earlier in the week I was advocating a five man midfield, and I have many times this season said that I would like to see Olofinjana play in the second striker role. So the option I would personally most like to see is this one.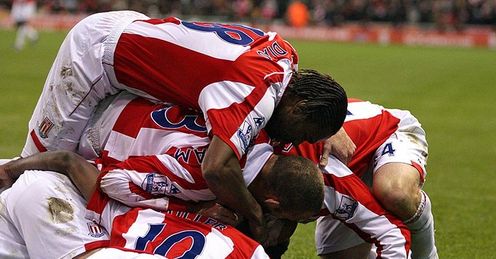 Olofinjana, somewhere at the bottom of the pile, scored for Stoke against Arsenal back in November, and could be given a chance to find the net again.
  Kitson aside, I feel there is little this season that Pulis has done wrong, and I only hope he continues this, by making the right choice of deputy during Beattie's absence.