With Premier League survival looking all but a certainty for Stoke now, this Saturday's game away at Fulham has something of an anti-climactic feel about it, as after months of being ready to scrap for everything on the pitch, it will be strange for the players and fans alike to go into a game knowing that regardless of the result on the day, the ultimate goal of the season has effectively been reached. That being said, if the Potters are able to go to Craven Cottage and get a result to take us over the forty point mark, the slight niggling worries of relegation would be removed from the minds of all but the most ardently pessimistic of Stoke fans.

Craven Cottage, where Stoke will attempt to gain a first ever Premier League point in London (or maybe even all three)
  Fresh from the win over West Brom three weeks ago, the Stoke players will have renewed belief in their abilities to perform on the road, and, having taken ten points from the last twelve, will be confident of extending this fine run of form. Fulham, however, will provide a far sterner test than West Brom did. With the club looking down and out this time last year, Fulham manager Roy Hodgson has done a fantastic job of reversing their fortunes, and has enjoyed an excellent season, with the club still in with an outside of making the top seven, which would bring European football to the banks of the River Thames next season.
  Fulhamare not a side that score a huge number of goals, averaging just one a game this season, with first-choice forwards Andy Johnson and Bobby Zamora being in less than prolific form since joining the club last summer. They make up for this with a defence that is very difficult to break down though, marshaled by the enormous Norwegian Brede Hangeland, and a midfield that is well drilled and well disciplined to support both the attack and the defence.

Roy Hodgson, a rival to Tony Pulis for manager of the season
  As we saw during the dour goalless draw at the Britannia Stadium in the return fixture back in December, it is unlikely that aimless long balls will cause Hangeland and his teammates any problems, so perhaps in is a blessing in disguise that Stoke's most frequent user of the hit and hope tactic, Danny Higginbotham, is out for the match, and possibly the rest of the season with a back injury. As with many of the most aerially gifted defenders, Hangeland lacks pace and ability with the ball at his feet, so perhaps the most effective attacking tactic for Stoke would be to get Ricardo Fuller to harry him, and hopefully force him into making a costly error.

Two footballers you'd be wise not to mess with
  As well as Higginbotham being ruled out, Stoke today received a major blow with the news that key forward James Beattie will miss the game with a thigh injury. In his absence it becomes even more important that Fuller arrives at the stadium to play a hard game of football rather than have a good old sulk, as he is often prone to doing. It is likely that either Richard Cresswell or Henri Camara will start in place of Beattie, but with Camara having failed to impress during his admittedly limited game-time at Stoke so far, and Cresswell lacking the pace, guile and strength to pose a threat at Premier League level, I'd prefer to see neither start, with an extra man added either to the midfield or defence to make things harder for Fulham going forward, leaving Fuller to play up front alone.
  I'm not so concerned about the absence of Higginbotham as I am of Beattie, as we have far better back-up options in his left-back position, with any one of Danny Pugh, Carl Dickinson, Andy Wilkinson, who is a doubt himself after suffering a back injury last week which apparently felt like being shot, or Stephen Kelly being possible replacements. If Wilkinson is fit, I expect to see him switched to left-back, with Kelly playing in his right-back slot. If he is not, a straight swap in for Pugh seems most likely. Senegalese midfield pair Amdy Faye and Salif Diao remain doubts for the game, neither having featured in over a month.

The war-wounded Beattie will miss out for Stoke
  In contrast to Stoke's injury woes, Hodgson has a full-strength Fulham squad to pick from for the visit of the Potters, and it is likely that what has been a very settled side this season will be unchanged once again, after it held Middlesbrough to a draw at the Riverside Stadium on Saturday. Ghanaian right-back John Pantsil should play, and is sure to receive a great deal of grief from the travelling Stoke fans, after his pathetic attempt to con the referee into thinking Fuller had headbutted him in the return fixture, falling very theatrically to ground, several seconds after the contact that he himself had instigated.

The sort of behaviour no football fan wants to see
Key Battles:
Bobby Zamora v Abdoulaye Faye
Though Zamora's goalscoring record this season is very bad for a centre-forward, the former West Ham man, who was on the verge of joining Stoke six years ago, having netted just two league goals, he is one of those forwards whose teammates love him for his workrate and overall contribution, and he has certainly played a big role in creating chances for other players to score. For this reason, it is important for Stoke's captain Faye to keep him quiet during the game.
Brede Hangeland v Ricardo Fuller
As I said above, Stoke's attacking chances for the game rest largely on the ability of Ricardo Fuller to get the better of the giant, American-born Hangeland, on the ground, and if at all possible in the air, with the threat of Beattie removed from the Stoke armoury.
Fulham Squad:
Goalkeepers: Mark Schwarzer (36), Pascal Zuberbuhler (38)
Defenders: Brede Hangeland (27), Aaron Hughes (29), John Pantsil (27), Paul Konchesky (27), Fredrik Stoor (25), Chris Baird (27), Toni Kallio (30), Robert Milso (22), Chris Smalling (19)
Midfielders: Danny Murphy (32), Simon Davies (29), Clint Dempsey (26), Dickson Etuhu (26), Zoltan Gera (30), Olivier Dacourt (34), Julian Gray (29), Wayne Brown (20)
Forwards: Andy Johnson (28), Bobby Zamora (28), Erik Nevalnd (31), Diomansy Kamara (28), Collins John (24), Giles Barnes (20)
Star Man: Danny Murphy
Two years ago, the career of Danny Murphy looked to be petering out. Into his thirties after a spell on the fringes at Tottenham, he was picked up by London rivals Fulham for an undisclosed fee on transfer deadline day at the start of last season. Unexpectedly, he has since gone from strength to strength and has been a near ever present in the Cottagers' midfield this season, capping some impressive performances with six goals. In total, he has made 64 league starts for the West Londoners, scoring nine times. His impressive CV also includes seven fruitful years at Liverpool, and nine full England caps, which he received between 2001 and 2003, scoring one international goal.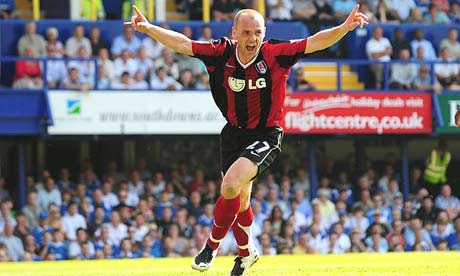 Murphy scored the goal that kept Fulham in the Premier League a year ago
Comparative Club Stats: (Includes cup games)        Fulham             Stoke
League Position:                                                        8th                 12th
Goals Scored:                                                            45                   40
Goals Conceded:                                                        40                   55
Home Record: (W,D,L)                                          11,3,5                10,5,4
Away Record: (W,D,L)                                           4,9,8                  2,4,12 
Clean Sheets:                                                           13                         11  
Failed to Score:                                                       17                          11 
Form: (Most recent first)                                       DWLWWL          WDWWLW
Top Scorer:                                                         Johnson (10)          Fuller (8)