Thanks to Steven Goran Eriksson for the ideas i'll put forward on this blog in the next few weeks and tonight's blog is one of them. I have wrote the My Top 20 Stoke Players since the year 2000. Why the year 2000? well I was born in 1992 and I don't remember much of my time as a Stoke fan until 2000. I did go matches on a regular basis before then I just only remember bits and blobs, however I do remember the last game at the beautiful Victoria Ground but ill give you my childhood Stoke stories another day so I won't say much more, but now back to what the blog is about. The Year 2000 was in a way in the middle of one of the worst parts of Stoke's rich historical past and let's face it we saw some trash in that patch of history with players like Henrik Risom a former Danish International, Lee Collins a ex-Villa player, Ben Petty another former Villa player, Dave Rowson a player who was described as one of the best bosman's in United Kingdom at the time so a lot of Stokie's we're hoping for a top player but we all know now how wrong they we're; to be honest the list is endless. Since then we have had a new club crest, 4 new managers in Gudjon Thordarson, Steve Cotterill, Tony Pulis (twice) & a large Dutchman by the name of Johan Boskamp, 2 consortiums have brought the club, Promotion from League 1 & The Championship, More loan's than a Bank so it's been an interesting ride. Anyways let's start of with Number 20
20. Arnar Gunnlaugsson
The bald Icelander midfielder was a quality player on both stints at The Britannia in 2000 and in 2002 twice on loan from fellow Midlanders Leicester City playing a key role in winning the Auto Windscreens Shield & winning promotion from Division 2. Overall he played 22 times scoring 5 but the class he showed was pure brilliance. A memory sticks in well was a clash with fellow Promotion hopefuls Brighton & Hove Albion in a crowd of over 21,000 and match been delayed by 15 minutes because of too many people needing to get in. Anyway we won a freekick on the right of the 18 yard box about 25 yards out he curls in a belter of a freekick and crashes into the crossbar, if he'd of scored the goal it would off been one of the best I have seen down The Brit it was truly a pearler. In the Summer of 2002 he joined SPL team Dundee United and a year later he went back to Iceland and is now joint manager of his hometown and former club IA Akranes with his twin brother Bjarki Gunnlaugsson for the 2nd time. If he signed with us permanently and stayed a while I think he'd be closer to the Number 10 mark because of his sheer brilliance with the Ball.
The Bald Eagle
19. Brynjar Gunnarsson
Good old Brynjar, another Icelandic international was a £600k signing from Orgryte IS in Sweden at the time he was the record signing. He was a terrific central defender or his usual position of defensive midfielder with great vision and a keen eye for a good pass; he was a quality above the Stoke squad at the time and deserved to be in a much higher league in which he did so a few years later. He was a model professional on and off the pitch but did have a hot temper but that was just the sign of raw passion and love for the club, he never complained about the club's poor performances and just got his head down and the hard work was rewarded as in 2002 where he played a major part in the promotion winning side even though he broke several bones in his feet half way through the season. He played 40 times during the survival season in Division 1 and was one of only a few players to look good into stepping up to the grade, the end of the 03-04 season he moved to Nottingham Forest on a free transfer much to the anger of Stoke fans and when he rejoined the club on loan in 2004 he was returned with a huge section of supporters booing because of the antics during the summer, he didn't impress much during his loan spell only playing in 3 matches and joined Watford in the Summer 2004. He was a great coup for the Hornets, he fount his form in which he had in his early days at Stoke but a switch of manager and he was then sold to Reading for a nominal fee and was instrumental in there Championship Title winning squad and also performed well in The Premier League and including scoring against Liverpool and Manchester United. He might of treated the club poorly at the end of his stay but he was a quality player during a dark time and deserves to be included in my Top 20
Brynjar Strutting His Stuff
18. Mikael Hansson
Also known by the Stokies as 'The Flying Swede'. He was blessed with frightening pace something Stoke fans have not seen before from a Right Back and he was brought from the unknown as it we're. A free transfer from Norrkoping in his native homeland; who ever fount this gem deserves a lot of credit. He was here for 3 years but only played 66 games because he had serious problems with injuries and it blighted his career at Stoke and in 2002 he eventually retired from a injury during pre-season. If he didn't have the injury problems I'm pretty confident in saying this but he would of played many more games than he did and would of been a great player in at least The Championship maybe even higher that's how good this guy was on his day.
Flying Swede
17. John Eustace
Super, Super John, Super, Super John, Super, Super John, Super Johnny Eustace that was his song during his stay but It didn't start of like that. He was a Free transfer signing from Coventry City in the Summer of 2003 and let's say his start was a bit slow with many (including myself) called him Johnny Useless but then something odd happened he started to play very well and went on a bit of goal scoring run and this was the dawn of a great player and changed his entire season and turned out to be a successful season. However the next few years where an absolute nightmare the season after the very fruitful one in which he only played 8 games. During a game against Wigan Athletic he got injured and the injury ruled him out for over 1 & a half years and many thought it was the end of his footballing career. I met him during that spell and we spoke for over 20 minutes and he was truly a top bloke and loved playing for Stoke. In 2006 he joined Hereford United on loan to get match fitness and was a very succesful loan with no injuries, he was recalled because of injuries to Stoke's midfield and held the position until he left the club in January to Watford in a £250k deal. Super John you are legend to us Stokies and won't forget the passion and your love for Stoke City
Super Johnny Eustace
16. Paul Gallagher
I remember the day we signed him, came back from a holiday, went on computer and saw we signed Paul Gallagher from Blackburn Rovers, I was very optimistic in this signing but was just reserving my feelings for a while but my optimism was right scoring 11 goals in 36 games; the best goal came against Southampton from about 30 yards out he just belts the ball and slams into the top corner a truely great goal, another impressive game was Luton Town away. We went down 1-0 in the 21st minute and was the score until the first minute of injury time where Paul Gallagher pops up, he then scored late on during the match to make it 2-1, but minutes later Stoke concede a penalty which Luton converte and we thought we blew it, but miraculously a freak of nature occured, where a Luton player chipped over his own keeper in the dieing seconds of injury time. He then returned to Blackburn and well didnt do much again, he was then sent on loan to Preston North End but returned to The Potteries in the January transfer window but this stint was far from fruitful due to a bust up with manager Tony Pulis and that resulted him into playing in only a few games. Last season he was on loan at Devonshire club Plymouth Argyle where that was a success. He's in here because he was a touch of class when we needed some and without him we probably would of been relegated in that season so it's more than deserved
The Flying Scotsman
15. Clint Hill
Captain Clint what a defender, played with raw passion and determination, he was very like Stoke Legend Denis Smith just less broken bones and played less games. A bargain price of £120k from Oldham Athletic but his career at Stoke was blighted by reoccurring knee problems but the games he played boy was he good!, His first season he played 8 games and was average but the season after he was named Player of the Year and season after forging a great partnership with Michael Duberry. The season after he lost his place in the starting XI because of the new arrivals of Danny Higginbotham and Andy Griffin, later in that season he had an operation on his knee. In October the following season he joined Crystal Palace and then joined them in January for an undisclosed fee. Clint is what Stoke City has always been about; Passion and Pride and that's why he was such a hit with the fan's. If it wasn't for his knee problems he'd of played many more games but the time he left it was for the best because Andy Griffin was on top form at the Left Back position and Danny Higginbotham had a great season at Centre Back.
Hard As Nails
14. Steve Simonsen
A free transfer signing from Everton in 2004, a very highly rated goalkeeper when at Tranmere and Everton parted with £3.3m to sign him; he was rated one of the best young goalkeepers in England with a bright future but it didn't turn out as well as they hoped. He spent 6 years as an Evertonian but only played 35 games one including a FA Cup tie against the Potters. Since joining The Potters apart from the season just gone 08-09, he was first choice goalkeeper where he played 150 consecutive games and is the record holder of the 7 consecutive clean sheets in the 06-07 season, but later on in the 07-08 season he was forced out of the team by on loan Carlo Nash with Pulis saying "He's having a much deserved rest" and the arrival of Thomas Sorenson has seen him restricted to only 5 appearances since. A player many Stoke fans have a lot of time for because of his services to the club and many won't forget the game against Cardiff City at Ninian Park in the promotion season; where he saved a Penalty, the rebound shot and many top draw saves through out the game. He more than deserves to be in The Top 20.
Simo, Simo, Simo
13. Ade Akinbiyi
SAVED US FROM RELEGATION, need any more?. We needed a win or hoped that already relegated Grimsby didn't lose to Brighton and Hove Albion, but both happened. A below par-performance by Reading but still very dangerous with the ball. But in the 54th minute Lewis Neal crossed the ball in from the left and Akinbyi was there to smash it in past Marcus Hahnemann. He worked hard but he didn't score many but the sheer determination to work for the team was why he left such a mark on the Stoke fans. We saved his career, gave him back some pride and we got a nice fee for him when he left for Burnley for around £800k. He has since played for Sheffield United, Burnley again and now currently plays for Texas based MLS team Houston Dynamo
Terrified Defences
12. Gerry Taggart
The former Northern Ireland international was just a fans favourite at his time at The Brit. He spent a successful loan at The Brit and later signed a permanent deal in February in a free transfer. A great defender who had no prisoners (especially Dennis Wise), but eventually his age catched up and series of injuries made him to retire but stayed on at the club in a coaching role until June 2006. He then went back to former club Leicester City to get his coaching badges but also came back into football and joined Staffordshire minnows Tamworth. He retired later that season and joined up with the Leicester staff where he was also a Joint Caretaker manager with Frank Burrows after Gary Megson's departure.
Dennis Wise Trembles in his shoes
11. Carl Hoefkens
Hoofers, a £325k signing from Belgian club Germinal Beerschot was 1 of only a few signings Boskamp that made a impact. He was signed initially as a centre back but he was not a hit in that position until Boskamp converted him to a Right Back; he loved to get forward and could put a tackle in so it was his natural position in many ways although he wasn't the first to think of it; me and my dad had been saying for months before the change that he should be played as a Right Back and we got laughed at. The conversion was so successful he was adored by the Stokies and won Stoke Player of the Year in his first season in English Football. But the arrival of TP saw Hoefkens dropped to the bench after a massive fall out, but he was later rewarded for his hard work with a starting place in the line up until he left for West Midlands rivals West Bromwich Albion in a deal worth 750k, many Stoke fans we're outraged that a star player was sold for so cheap and to a rival team. His stay at West Brom has been less successful than his stay in The Potteries and has since been released.
Hoofers
10. Ryan Shawcross
At the age of 21 and 6″5′ and still growing he's the making of a true Stoke City great. He can score goals, can put a cracking tackle in and great in the air what more can you ask from a centre back?. Signed on an initial 6 month loan deal from giant's Manchester United and made an instant impact in his first match in a game away to Cardiff City where he scored and that goal won us the match which for a 19 year old showed what greatness he could achieve, he then scored in his next game in the Carling Cup defeat to Rochdale and at the time was our Top Goalscorer. He was offered a permanent deal and completed the £1m and £1m in future incentives half way through the January Transfer Window. He continued the great form right through out the season. The start of the 08/09 season was difficult; a poor performance at the Reebok and was dropped to the bench until the away day nightmare at Eastlands but that didn't faulter his season it was from there it kicked his season back in full swing and all in all he had a successful first season of many in the Premier League. He is a great player at his young age but all he can do with team mate Abdoulaye Faye is improve, he is definitely a Future England International and I hope he is still with us for the Long-Haul.
Next England International
9. Peter Thorne
The £500k signing was the replacement for Mike Sheron who departed for Queens Park Rangers, he was a bright light in a very big, black tunnel. He was Top Goalscorer for Stoke in 3 of his 4 and a bit seasons scoring 71 goals in 147 games which is just under 1 goal in 2 games! which in any league is fantastic. In his first season we we're relegated but still scored 16 goals so it showed that he knew we're the back of the net was. The 99-00 season was his most fruitful where he scored 25 goals in 41 games. In a game against Chesterfield at The Brit; he scored 4 goals in a 5-1 thriller and was the first player to score 4 from open play since 1966; Around a month later he scored a Hat-Trick against Bristol Rovers at Memorial Park to salvage a draw to keep a promotion dreams alive, another month later he scored another Hat-Trick in a 3-0 win over Bury. That season he also scored the winning goal in the Autoglass Trophy against Bristol City at Wembley; 99-00 saw a new Stoke City Hero. In 00-01 season he scored another Hat-Trick in a 3-0 win against Bristol Rovers; the season wasn't as fruitful as season before but still finished top goal scorer with an impressive 16. 01-02 if he stayed long enough he would of probably won the league; he scored 4 goals in 5 games but rumours around the area was Cardiff City we're planning another major signing from The Potters; After the Huddersfield Town game (which he secured a point in stoppage time) he was sold to the South Wales outfit for £1.8m. He had numerous injury problems at Cardiff City and Norwich City but still scored 47 goals in 162 games for the both clubs. But he has fount his goalscoring boots at Yorkshire club Bradford City where he has scored 31 goals in 70 games which is not far behind the form at Stoke. He has also set up an Academy in his hometown of Urmston which has proved a success and is set to set up more around the country. Thorney you are a true Potters Legend.
Super Thorne
8. Graham Kavanagh
A £250k bargain signing after a period of time on loan from Middlesbrough. A cracking player but left on a really bad note which most Stokies will never forgive him for but he was still a top class player while in the Red and White stripes. A player with great range of passing, great technique on the ball, wasn't scared to put in a tackle and had a eagle eye for a goal; He was infact my hero and I had the same haircut as him (but obviously not grey!); I basically worshipped the man. The 98-99 season was far by his best season in Stoke colours, he finished top goalscorer with 12 goals with many of them absolute corkers which to me was The Great Kavanagh but in 00-01 season he changed into a man non of us Stokies would of expected and declared he wanted to leave The Potteries and go on to better himself with a higher level club and then ended the press conference by crying and saying he loved the club etc, I for one was devastated my hero would be leaving the club, but as I grew up I started to realise what the older Stoke fans saw which was a liar and in the 01-02 he joined Stoke's rivals Cardiff City (yes that was the bigger team he wanted to move to, but we had the last laugh) in a deal worth £1m. Upon his return to The Britannia he came out in a huge rupture of boo's which I have never seen before; it was every single person booing at him, apart from me I just couldn't do it. The Play-Off's is we're we got our own back on the Irish man, They beat us in The Potteries 2-1 and we all thought that this was going to be another heartbreak as like the previous seasons, but in one of the greatest matches in Stoke's recent history; it was the dieing seconds of normal time and Stoke looking like they we're leaving the Welsh capital with glum faces; until the 89th minute were a nice bit of play with Clive Clarke & Bjarni Gudjonsson and then a lay off for James O'Connor which he then smashes in the bottom corner to send The Potters into a frenzy to send the game into extra time with Stoke pieling on the pressure Stoke we're awarded a freekick outside the box, O'Connor stepped up pile drived it and went through the wall and then hit Stoke's Guinea international Souleymane Oulare's backside and bobbled in! sending the Stokies into a mass exodus; Stoke we're 2-0 up and went through to the final. Kavanagh then stayed at Cardiff until the Summer of 2005 and was sold to Wigan Athletic for £400k due to financial difficulties at the Welsh Club, he was only there for a year and was sold to the Irish Revolution at Sunderland for £500k but was not a success like at Stoke, Cardiff & Wigan and was loaned out to Sheffield Wednesday (twice) & Carlisle where he has stayed on a a permanent basis as a player-coach. We'll never forgive you for what you did Kavanagh but by god what a fantastic footballer you we're.
Silver Haired Dynamo
7. Thomas Sorensen
A free transfer in the Summer 08 after been released by fellow Midlanders Aston Villa. At the time Stoke we're in hot pursuit off England International Goalkeeper Scott Carson but later turned us down for local rivals West Bromwich Albion in a £3m deal. So next day we had Thomas Sorensen on trial and only a few day's into it we offered him a deal. The Danish number 1 turned out to be the best freebie in the League in my opinion he saved us so many times and probably saved us about 12 points. A career that started with his local side Odense but was loaned out to smaller teams in his homeland with not many people heard of him outside Denmark Peter Reid saw something in him to bring him to Sunderland who payed out £500k to secure his signature. He had a great debut season in English football by keeping 24 clean sheets to help Sunderland get to the promise land; he was also very successful in his debut Premiership season and this showed what a top class keeper he is, but when the Wearsiders we're relegated with money trouble's they needed to sell players and Tommy had interest from big teams in Europe including Barcelona, Manchester United and Arsenal but it was Aston Villa who got his signature and signed for £2m. He had a successful time at Villa Park but it was until Martin O'Neill signed Scott Carson on loan that sparked the massive row that lead to his demise at Villa Park in his last season at Aston Villa he didn't play a single game; It was rumoured that Derby County had a £500k bid rejected and Ipswich Town wanted the tall Dane but he stated he would go back to Denmark if no Premiership team wanted him. But there was one and that was Stoke City. He signed a 3 year deal at Stoke and his first season was fabulous he made an impressive 13 clean sheets and rarely put a foot wrong, his passion for Stoke is shown on a regular basis and is now loved by majority of Stoke fans. He also has a song that goes "OOOO Tommy, Tommy; Tommy, Tommy, Tommy, Tommy Sorensen". We Love You Big Guy!.
The Great Dane
6. James Beattie
This guy kept us up last season no question of a doubt, his goalscoring form was fantastic which won us many points. A £3.5m January transfer window signing from Sheffield United was met with great praise such as Matt Le Tissier calling it a 'masterstroke by Tony Pulis' I never really agree with Le Tissier but I did this time. When you mention James Beattie first thing you think of is goals it really should be his middle name, a big success at every club he's played with in Red & White stripes (Southampton and Sheffield United) it was just bound to happen that he would be the same here. He fitted in with the dressing room soon as he arrived by playing pranks with fellow prankster Liam Lawrence and bedded in really well like he's known them all years. The game that stands out for me was the Manchester City game that was the turning point in our season with us 2nd from bottom the team's morale a bit low but all things starting well for The Potters with them looking comfortable until a moment of madness from Rory Delap who kicked the ball into Shaun Wright-Phillips and received his marching orders (but so should of SWP for kicking out!) so down to 10 men with along time to go, but some reason it sparked Stoke back into gear and near the end of the first half a nice dink over the defence from Danny Higginbotham saw Matthew Etherington run down to the by line and put in a beautiful cross for a panther like Beattie to jump behind Wayne Bridge to head it in the bottom corner it was truely a wonderful goal which sent the Stoke fans into ecstasy; we won the game 1-0. He may go missing from time to time but he's always there when it counts he is a better quality version of Thorne and is already classed as a hero and he's only being here for little over 6 months!. The 09-10 season is a huge season for both Stoke City and James Beattie, if he where's the same scoring boots I'm confident we'll be here for the 10-11 season and he will go up much higher in the Top 20 best players.
Beeeeats
5. Sergei Shtaniuk
The Big Man was a Summer signing from Dinamo Moscow in the 01-02 season. He was a typical Stoke legendary centre back; big, strong and played with passion. His first few games showed that he was not scared to put a tackle in at Loftus Road game he started of a melee and 2 games later at Cambridge he got sent off!; so not the best of starts. But as he got used to playing in England he became superb and was known as one of the best players outside the Premier League with plenty of interest from Crystal Palace and Southampton but we're scared off by the £2m price tag. A player who played a key role in promotion to Division 1 and staying there but it was the end of that staying up season which upset many Stoke fans by stating he needed to leave for personal reasons after splitting up with his wife; He left to join Russian team Shinnik. Since then he has played for numerous amount of teams in the former Soviet Union including FC Metalurh, Luch-Energia, FC Rostov and is now playing for Alania in the first division (second tier) of Russian Football. He was also captain for Belarus 'B' team against England 'B' team in May 2006. I never got chance to meet him but hopefully in the future I do because he was my icon been a fellow Centre Back.
The Belorussian Legend
4. Ricardo Fuller
Ricardo Fuller also known as Dr. Jekyll and Mr. Hyde was a signing from Southampton for a figure some say to be from between £80k-£500k knowone knows but he is truely a fantastic player who is a handful for any defence. Blessed with skill, pace, power he is the Key Player. But he also has another side to him which is aggression, laziness and been disinterested that's why he is not playing for a major club and also his previous knee injuries have stopped him progressing to his full potential but everyone has there faults so we can't complain especially for how much this man has done for Stoke City. Southampton fans laughed at Stoke for signing this overpaid, crocked striker but once again Stoke had the last laugh. A contrasting debut season for The Potters saw both sides to him, he was top goal scorer but also had the most red cards in the team which annoyed plenty of Stoke fans we saw he was a great player but also a bit of an idiot. The next season was a terrific season for Fuller seeing him top goal scorer again but his discipline had improved dramatically. One of his greatest goals came in this season in an away win against rivals Wolves at Molineux; It started off from a penalty claim from Wolves after a late challenge from Salif Diao he ran from the Stoke's penalty area with the ball and ran past the whole Wolves team got into there penalty box and shot across the goalkeeper into the back of the net; a truely stunning solo goal. Another memorable performance came against another rival team in West Brom which saw him get a hat-trick and totally ripped apart there defence. The season just gone was another successful campaign which saw him top goalscorer once more but the most memorable thing this season was from Mr. Hyde where he slapped captain Andy Griffin for been 'disrespectful' which was a very dark time at Stoke for a long while and many we're expecting the exit door for Jamaican. But he redeemed himself and there are now no problems with him and Griffin. The season coming up is a big one for Ricardo Fuller and I believe will be his best in Stoke colours, just hope we don't see the Mr. Hyde side again.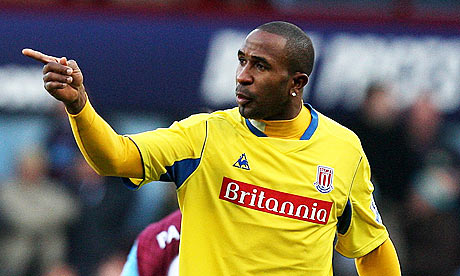 A Legend in the making
3. Liam Lawrence
The number 7 is a legendary number for Stoke City and anyone who reads this should know why so I don't need explain. He was signed from Wearsiders for £500k after a loan spell at Stoke but if there wasn't a naughty film involving Lawrence and fellow team mates Chris Woods, Ben Alnwick and Chris Brown I really doubt he would of left Sunderland. But we didn't care and proved a huge hit with the fans and is a massive icon since. A player with great technique who is brilliant with set pieces and a keen eye for a goal. The 07-08 season was the best season in his career by far and was the best player in The Championship he scored 15 goals and set-up 11 and played a huge role in majority of the games including a hat-trick at Oakwell to get an important draw for Stoke. 08-09 was initially thought to be Lawrence's Season but a strange thing happened at The Lawrence Family home where he tripped over his pet dog and made him miss most of the season. But when he came back he started inevitably slow but he got back to the old Lawrence and made a few impressive performances especially against Hull at the KC Stadium by where he scored a beautiful goal which confirmed Stoke's safety. The upcoming season is really important for Lawrence because he needs to prove to everyone that he is a Premiership quality winger; which in mine and many more's eye's he is.
Superb Player
2. Peter Hoekstra
He's a true Stoke great. He was a undisclosed signing from Dutch giants Ajax which saw a former Dutch International playing in the famous red and white stripes. He was tall for a winger standing at 6″3′, but he was nothing short of a magician with great skills and foot work which saw an exciting player in The Potteries for the first time in many years. His time at Stoke was damaged by numerous injuries but when he did play he was that touch of quality that many teams wished for. There are 2 teams that he gave them nightmare's which we're Reading and Watford because he always scored against them and was always a thorn in their sides. His greatest game was a 3-0 win against a good Reading side that we're chasing promotion where he scored the perfect 3 with his feet scoring one with his left, one with his right and one from the spot. He was spectacular on his day and had the greatest footballing mind since Matthews and  because of his talents he was voted the greatest player this decade by Stoke fans. He brought something different to Stoke's play and that's why he is still such a cult figure here in Stoke-on-Trent.
"Greatest Footballing Mind Since Matthews"
1. Abdoulaye Faye
Number 1 and there is no doubt who it should be and it's this guy; already a Stoke City legend in many eyes from the Britannia faithful. His composure and control for a centre back is extraordinary and something many Potters fans have never seen. A £2.25m transfer from Newcastle United saw the 'bargain of the season' with Newcastle replacing him with Argentinean Donkey that is Fabricio Coloccini for 4 times larger than the price for there best defender was absolute madness and also shows why they need to sell players for there upcoming season in The Championship. A Senegalese International was part of the great defensive partnership with Ryan Shawcross which is one of the best centre back partnerships in England. It's clear that Abdoulaye has made Ryan a much better defender so it shows that he's an inspiration on and off the pitch; he was made Captain after Andy Griffin was dropped from the first team squad because of a back room incident and has lead the role superb with many expecting him to be given the job for the 09-10 season. His exceptional performances have lead reported interest from Juventus, Arsenal and Blackburn but there has been nothing concrete and if there we're official enquiry's I still don't think he'd go. There are no standout performances from the big man because he has been superb in all but a few matches that just shows how great of a player he is. There has also been a petition on Facebook to make 'Fayeism' a religion which was actually started by me and is very close to be considered an Official UK Religion. We all love you big man! Abdoulaye M'Lord, Abdoulaye, Abdoulaye M'Lord, Abdoulaye, Abdoulaye M'Lord, Abdoulaye, O Lord Abdoulaye.