Transfer news concerning players joining or leaving Stoke City has been very hard to come by in the third week of this summer transfer window, so in order not to have a near blank round-up article, I should explain that I've had to resort in taking rumours from some less reputable sources that usual, so many of these may amount to nothing more than fanciful thinking.
Players In Rumours
One piece of concrete news to emerge this week is that we are set to land Crewe's two promising youngsters, Matt Lund and Ben Marshall. Lund, an eighteen year old midfielder, and Marshall a seventeen year old forward, reportedly approached former Crewe manager, now Stoke academy director, Steve Holland about a move to the Britannia Stadium. It's important for the future of the club that our youth set-up is strong. We now have an academy head, Holland, who is among the best in the business, and it is important that we add the players to match. If these two are going to improve our future, then I'm all for their signing.
We have also been linked with a move for RC Lens's former Liverpool left-back Grégory Vignal, with the 27 year old said to be unhappy at the French club. He never really impressed at Liverpool, but did reasonable well at Championship level with Southampton a few years ago, and in France. Though he'd hardly excite fans, it may be the case that he'd make a sound addition to the squad. I do, however, question whether he has the right "DNA", as he has a history of struggling to settle at clubs, playing for ten in as many years.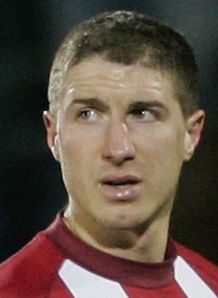 Andy Griffin look-a-like Vignal could replace the Stoke skipper in Tony Pulis's squad
One of the rumours emanating from a less reliable source is that we will attempt to sign Real Madrid's former global superstar Javier Saviola as the Argentinian's career has lost direction. The 5'6" forward hardly strikes you as Stoke's type though. He's without doubt a quality player, but I won't waste time on further voicing my opinion, because simply, it's not going to happen. 
Another Argentinian linked, albeit weakly, with the Potters is Leandro Somoza, a holding midfielder who plays for Vélez Sársfield in his homeland. I don't know a great deal about Somoza, but he's highly rated in Argentina, and could be the sort of wildcard signing that turns out to be inspired.
Promisingly, we are being touted as keen on Newcastle right-back Habib Beye. The 31 year old may be allowed to leave the Championship club for as little as £1 million. I've long said that Beye would top my list of players to target this summer. He's great defensively and good going forward, and with our Senegalsese links a move to Stoke would probably be attractive to him. He's one of the few right-backs I'd be happy to see displace Andy Wilkinson in our side. I'd love to see him play in a Stoke shirt.

Beye would be a superb signing
Another player at a North-East club that Pulis has always liked is Sunderland captain Dean Whitehead. The midfielder is said to be keen to quit The Stadium of Light and we are looking like a probably destination. I'm undecided on Whitehead, he's a solid Premier League quality, but I don't believe that he is really any better than what we already have, and I would only really like to see us sign him if the fee is small.
Finally, Stoke midfielder Salif Diao, who is out of contract this summer and is yet to agree new terms, now looks more likely to stay than not, as Tony Pulis has told the media that he wants the veteran to stay, saying "He's a great role model for any footballer, particularly our African lads, because he has so much stature as a player and a person."
Players Out Rumours
It has become clear that on-loan Birmingham right-back Stephen Kelly, who was still officially on the books at Stoke, will not sign for the club more permanently this summer, as he has instead joined Fulham on a three year deal. I was indifferent to him when he played for us, and I'm indifferent to this news. There are many better players out there.

Kelly, here playing for Stoke against Fulham, will switch his allegiances for the 2009/10 season
Another man who will not be joining the Potters this summer is Sheffield United coach Sam Ellis, who was approached about the vacant assistant manager position, but has turned it down.
It's about time we made our mark on the transfer window, let's hope for a rather more active Week Four.