Having spent the last week in a tent in the Lake District, with no contact with the outside world aside from the soggy three day old scraps of newspapers that occasionally drifted in on the wind, I was excited on my return today to see properly what Stoke have been up to in the transfer market this week. While I haven't discovered that we've made the big signing I'd been hoping for, there's no doubt it was an interesting week. I'll round up the stories below.
Players In Rumours:
The strongest and most intriguing rumour doing the rounds this week suggests that we may be close to completing the signing of West Ham forward Dean Ashton, who was a youth player with the Potters before moving to Crewe, for a club record fee. Stoke chairman Peter Coates has given two interviews on the subject, first heavily hinting that we are well into the process of negotiating a deal with the club and player, but later denying that we are interested. To me this can mean one of two things. Either Coates initially dropped a clanger and is trying to cover up for this, or something went wrong with the deal in the time between the two interviews. I certainly hope that the prior is true, as I've always thought a lot of Ashton and believe he could greatly improve our attacking options.

Ashton could be sprinting his way back to Stoke
Like most Premier League clubs, we have also been linked with a move for former Newcastle striker Michael Owen who is available on a free transfer. Though fit he would be an incredible player for Stoke, and would personify the huge leaps forward Stoke have made in the last few years, I doubt he will end up at the club, with his injury troubles and wage demands likely to provide problems. Still, fingers crossed.
Another Newcastle striker we have been linked with is the Nigerian international Obafemi Martins, who is said to be keen to sign for a top flight club this summer. He's a proven goalscorer at the top level and with his pace would offer a new dimension to our forward line, and is therefore another very enthusing player for us to be looking at.
Haminu Dramani, the 23 year old Ghanaian winger who we came very close to signing at the end of last summer is again being touted as a target for Tony Pulis, with his Russian club Lokomotiv Moscow apparently asking £2.5 million for his services.
Yet another Newcastle player on Pulis's radar is said to be the tough-tackling midfielder Kevin Nolan. Unlike with Owen and Martins however, I don't believe Nolan would add a great deal to our side, and I don't see him as much better than our current players in his position. No tears will be shed if this one doesn't go through.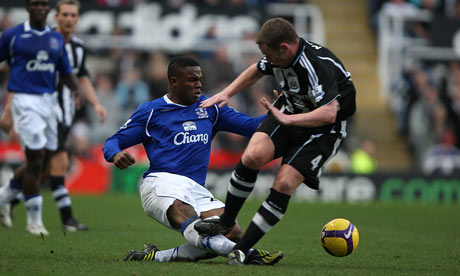 Nolan has been offered the job of Stoke tackling coach
In a week dominated by rumours about attacking players, Kevin Doyle is another name that has been thrown into the fray, with Stoke possibly battling with Wolves and Aston Villa for the signature of the £6.5 million rated Reading man. Though on paper he's a top quality striker, you have to consider that he's not the most consistent of players, with form patchy over the last two seasons. This has led me to believe that £6.5 million is slightly too much for him, and after all, we have to learn our lesson about spending big money on Reading forwards.
A player that Pulis has been keen on for a while is RC Lens striker Aruna Dindane. The French club have announced that they are willing to listen to offers for the Ivorian, who would cost around £5 million, which will probably strengthen our interest in him, although Tottenham are also said to be in the hunt.
We have also been loosely linked with Doyle's Reading teammate, another striker, Leroy Lita, who should be available on the cheap after falling out of favour with the Berkshire club. Crystal Palace seem to be the favourites to land him though.

Lita may try to trick Pulis into signing him by pretending to be Djibril Cissé
Finally, we are reportedly interested in former Manchester City striker Darius Vassell, who is now a free agent after being released by the world's richest underachievers. Though he's hardly a glamourous player, he has good experience at Premier League and international level, the 29 year old having amassed 22 England caps, and if his wage demands weren't too high, he's the sort of figure I wouldn't mind having in the squad.
After missing out on Sheffield United's Sam Ellis, Stoke are also keen to appoint former Bradford, Wigan and Derby manager Paul Jewellas Pulis's assistant as part of the same back-room shake-up that sees previous number two Dave Kemp move to a scouting role. Jewell would in my opinion be an excellent choice, with his experience of keeping overachieving clubs in the Premier League being particularly attractive.
Players Out Rumours:
Stoke's versatile defender Andrew Davies, who has made just two first team starts since joining the club from Southampton for £1.3 million a year ago, looks set to leave the Britannia Stadium, with Championship duo Coventry and QPR apparently interested in the 24 year old.
Meanwhile, Blackburn boss Sam Alladyce is said again to be keen to bring Stoke's favourite adopted son Abdoulaye Faye to the club (yawn), while he is also said to be interested in former Rovers man James Beattie, who is almost as popular around Stoke as Faye. I wouldn't waste the time bothering to enquire.

Abdoulaye is a Stokie
Another African Stokje player who could be on his way is Nigerian midfielderSeyi Olofinjana, who has struggled for a regular first team place recently, with AS Monaco said to be interested in the 28 year old.
Finally for this week, in a move either to build bridges with local rivals Port Vale, no, I'd never heard of them either, or mock their lowly status, Pulis has announced that he is prepared to send his young players out on loan to the Burslem outfit over the forthcoming season.