Inspired by the bizarre and unsightly new Bolton kit which was recently released, I've decided to write a little end of season, soft piece on all the less attractive football kits we have seen our teams take to the pitch in over the past couple of decades. Featuring efforts from distant corners of the globe, from Huancayo in Peru to Hull, this is my top selection of kits that can be classed as eyesores, badly judged, or just plain ugly.

Bolton's new "barcode" shirt is an early contender for the worst of the season
  The 1990s most definitely was the decade that style forgot, so it's not surprising that many of the kits featured here come from that era best forgotten, including this one from close to home, the Stoke City away kit from 1992. Allegedly inspired by television interference, this is one kit that should have been left in the mind of its warped designer. The shocking thing, it was by no means the only kit based along such design lines at the time.
  Moving north and east, we come to our good friends from Hull, and their ghastly effort from the same season. Some smart designer took the club's nickname, the Tigers, a little too literally to produce this true aberration of a kit. I pity the Hull fans who were condemned to having to watch their side play in it at the time. They wouldn't have even got any reprieve away from home, as nothing clashes with this kit. Amazingly, someone must have liked it, as similar tiger print designs were used for three whole seasons.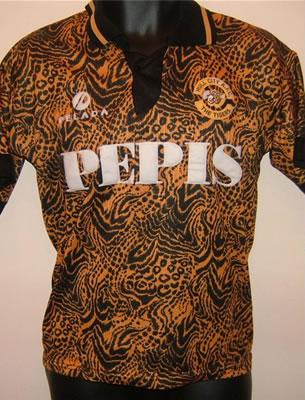 Switching for the first time to the continent, we come to Italy, and more precisely the Fiorentina away shirt from, once again, the 1992/93 season, a dark dark year for sporting style. This kit definitely falls into the badly thought out category. On the face of it, it's not wholly unattractive, white with the club's traditional blue/purple colour as a trim, in the customary loud 90s style. On closer inspection, you notice that someone's really dropped the ball on this one though, and the patters left where the arrows of the upper part of the shirt meet pay far closer homage to that country's Fascist past than I'm sure the club intended. Interestingly, the kit was banned immediately after being featured on Channel Four's much missed Football Italia series.
  Now across the world again to the Peruvian Andes, the home of prominent club Deportivo Wanka. With the name of the club proudly displayed across the chest of their shirts, these kits have become something of a collector's item amongst British football fans. In response to this increased interest in their club from our shores, one club spokesman commented, "It is very strange. Everyone in Britain thinks we have a funny name."
  Staying in the Americas, what of Mexico's international kits of the late 90s? Inspired by the country's Aztec past, ABA Sport produced this incredible design for their 1998 World Cup campaign. Some people say it's hideous and tacky, I must say I rather like it. So much so that I bought one online a couple of years ago. Best money I ever spent. The change kit that came with this one featured the same design in white. It was deemed more wearable by fans and became very popular around the 2006 World Cup in France.
  Spanish side Athletic Bilbao now get into my list, with this remarkable kit from as recently as 2004. We usually associate the Spanish wish good style and class, but not this time. I suppose they are Basque though.
  Finally, I have a man who deserves a section all of his own. While Mexico were playing in their garish kits of the 1990s, their goalkeeper, Jorge Campos was determined to take it one step further, by insisting on designing his own kits, and ending up looking like something you might see drawn in a nursery school art class, in kits invariably far too big for his 5'8" frame. He really is a remarkable man, scoring 35 goals for Mexican club Pumas playing as a centre forward after begging his coach to use him in the position as he wasn't getting a game in goal. He broke through as a 'keeper eventually though, going on to receive 130 caps for his country, the third most ever, before his retirement five years ago. Here's a selection of three of his most eye-catching moments.
  Stoke's new home kit, designed by Le Coq Sportif is due for release soon. I can only hope it looks nothing like any of these.