Well, it's been quite a busy week for gossip at the lane with a number of players apparently coming and going ( depending on who you believe ). I'll list all the gossip I could find and comment on it's possibility. ( Please add any gossip you think I may have missed- cheers ).
BERBATOV OUT!  (VARIOUS) Well it's not really new is it? However all week the back pages have stated that Berbatov has already packed his bag's and is set to move to Manchester United in a £25m-£28m move.
POSSIBILITY- 7.5/10. I'm pretty sure that, if given the choice, Berbatov would already be at Old Trafford. However Ramos has stated that he will do whatever he can to keep Berba at the club. But would he turn down £28 million?
VEDRAN CORLUKA IN! (THE SUN) A surprising piece of gossip really as we haven't announced any kind of intrest in the player. However the Sun has stated that Corluka has his heart set on a move to the Lane.
POSSIBILITY- 7/10. Corluka has stated that he wants a move and with the current soap opera going on at City, would they reject a Spurs bid? That said, Spurs haven't made an official approach yet.
SPURS FACE COMPETITION FOR FORLAN! (THE STAR) Tottenham are apparently lining up a bid for former Manchester United flop Diego Forlan. Spurs face competition from Sunderland, however, as Roy Keane would love to see the Argentine in Sunderland colours.
POSSIBILITY- 4/10. First of all I very much doubt Forlan would leave Athletico Madrid for Sunderland. He may be tempted with a move to the Lane but would Ramos be willing to take a gamble on the man who played so poorly for United not that long ago?
ARSHAVIN MOVE OFF (http://tottenhamhotspur.rivals.net) Arshavin has now decided to stay at Zenit, ending speculation that he will move to Spurs in a £20million deal.
POSSIBILITY-9/10. It really does look that Arshavin will now stay with Zenit. He's been named in the Zenit team for the game against Terek Grozny and looks unlikely to now join the lillywhites. If he does stay- and Berbatov does indeed join Man Utd- Spurs would be left with only one senior striker- Darren Bent.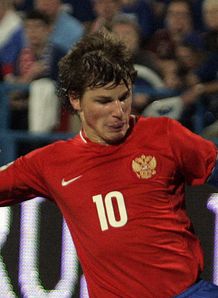 Phew- I think that's it! I've left out the Kaboul rumours following his subsequent move to Pompey, despite the fact that he was rumoured to be joining Villa. I'll hopefully round up next week's gossip next weekend sometime.