Who would have thought that, when we first took to the Premier League field at Bolton over nine months ago now, and returned from it dejected, having been thoroughly beaten 3-1 by what we saw as one of the division's weaker sides, that this season would turn out the way it has done? Paddy Power, infamously, arrogantly, and most importantly wrongly, paid out on our relegation after that game, but walking away from the Reebok Stadium in the August rain, I could see little way that we would stay up this season. Our defence looked weak, having conceded three in ten first half minutes, while we seemed to be blunt going forward, with new record signing Dave Kitson failing to impress.

Ryan Shawcross's apparent refusal to attempt to stop the Bolton players from scoring was a worry
  I feel that our season closely parallels that of young centre-back Ryan Shawcross. Against Bolton he looked out of his depth, incapable of dealing with the threat of Premier League strikers in the air or on the ground, and soon lost his place in the side. He regained it in the autumn though, and came back looking every bit the top flight defender, and deservedly earning many plaudits. I believe that this represents our side as a whole, looking weak at first, but coming back stronger, fitter, and more determined to succeed, ultimately doing so in some style.
  It is perhaps Shawcross's central defensive partner that most will look on as a huge part of the reason for our survival though. The day before the Bolton match, we had completed the signing of the Senegalese international Abdoulaye Faye from Newcastle, for what seemed like a very reasonable £2.25 million. We knew he was good, but the way he quickly became a firm fans' favourite and a true Stoke City hero was something special. Though signed too late to feature against Bolton, he came straight into the side for our next game, the visit of Aston Villa to the Britannia Stadium for our first ever Premier League home game.
  He immediately impressed, showing his immense physical strength, and ever-cool temperament as we triumphed 3-2 in a thrilling game, with Mamady Sidibe, perhaps the one player who epitomises the Stoke spirit, after coming close to death when caught up in a riot of angry Togolese fans when his native Mali had defeated them in a qualifying match, netting a 94th minute winner, after Ricardo Fuller had scored one of the goals of the season earlier in the game. It was Fuller's second goal of the campaign, the Jamaican having scored our consolation at Bolton, amounting to double the number of Premier League goals he had previously scored.

Abdoulaye Faye's excellent debut gave us a taste of what we were to get to love
  The Villa game also introduced the world our favourite weapon, the Rory Delap long throw. Sidibe's winner coming as a result of it, the media quickly fell in love with the 40 yard, 50 miles per hour missile, with Match of the Day liking to spend at least two minutes of every show discussing it, in the hope of achieving one of the goals they hold as as important as making Alan Shearer look like a good manager, perpetuating the idea that Stoke are a team of set-piece craving, two metre tall, blood-thirsty cetaceans. "Rorymania" peaked in November though, and with the midfielder injuring a shoulder, his throws became less effective, and it is to the credit of the Stoke players that we have since climbed the table without, for the most part, their help. Though we may disagree with the stereotyping connotations of the nation's love affair with the Delap throw, it has certainly put Stoke on the footballing map. It's not uncommon to hear Sunday league players claiming they can "do a Delap", and I have even heard commentators of games featuring AC Milan and Barcelona refer to the Delap throw this season.

The throw that took the nation by storm
  Retrospectively, I do not believe we can overstate the significance of that win over Villa. We have often seen newly promoted teams spend weeks or even months of the season looking for that first win, and that fact that we got it early did us no end of good. It told us that we were able to compete with the best teams, and I'm sure gave us the confidence to kick on with our season.
  If was in fact, a bad run of form that followed that game though, with defeats to Middlesbrough, Everton, Chelsea and Portsmouth all coming over the next few weeks, with an extremely hard fought goalless draw earned at Liverpool, one of the highlights of our season, providing our only other point before mid-October.
  The wins soon began to flow though. First, Tottenham were put to the sword on a blustery day at the Britannia Stadium, where the atmosphere was fast becoming something to revere for us, and fear for opponents. A truly bizarre game saw, two red cards for Spurs, two penalties for Stoke, one missed, Spurs 'keeper Heurelho Gomes knocking out his defender Vedran ?orluka, Stoke 'keeper Thomas Sorensen almost blinded after a collision with Tottenham's Alan Hutton, eleven minutes of injury time at the end of the match, the Potters hitting the woodwork four times during it, and ultimately, a vital three points that saw us move away from the bottom of the league.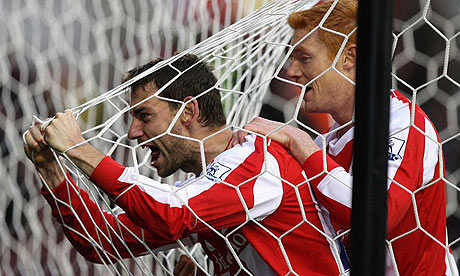 Delap made the headlines with his goalscoring for a change
  A disappointing 3-0 defeat by the newly crowned world's richest club Manchester City, who were inspired by a Robinho hat-trick followed six days later though, as we remained mired in the bottom three. This season, home form has been the key to our success, with 35 of our 45 points coming at the Britannia Stadium, with an outstanding ten out of nineteen Premier League home games won; only the top four, Manchester City and Fulham have a better record than that,which is something we, as a newly promoted club, should be very proud of. It was around this time that our superb home form really started to show itself. We bounced back from the loss at Eastlands by beating Sunderland 1-0 in an important relegation clash, the goal coming late in the game though Fuller from, of course, a Delap long throw.
  Three days later came arguably the highest point of our season, the mighty Arsenal visiting the Potteries. On the day, we were up for the fight, and they were not, as we outfought and out-thought Arsene Wenger's side on the way to a 2-1 win, a scoreline that really flatters Arsenal. Once again, our goals, coming through Fuller, who would finish the season as our top scorer with eleven goals, and Nigerian midfielder Seyi Olofinjana, were the result of the "Delapidator", as the press liked to call it, with Arsenal's multi-million pound side of international talent simply unable to stand up to Stoke's height, strength and physicality.

The goalscorer Olofinjana is somewhere under there
  After the game, a bitter Wenger accused the Stoke players, particularly Shawcross and Delap of deliberately going out to injure his players. It was very disappointing to see that he views our club and players in such a negative light, and that a top manager could not have more respect for his fellow professionals, particularly this soon after the FA's respect campaign was launched. He seems to have buried the hatchet with Tony Pulis now though, but I wonder what effect his angry words could have had on our season. I theorised at the time that because of the amount of attention the issue was getting, it was likely to influence referees in their decisions in matches regarding Stoke, and it did seem for a time that a lot of decisions were going against us, but it all seems irrelevant now really. 
  Next for Stoke came a trip to Wigan, where we earned a respectable goalless draw. As the game was an early kick-off, for inexplicable police reasons, the result saw us move into ninth place, our first and only foray into the top half on the Premier League to date, and one that unfortunately only lasted a couple of hours, with results later that day sending us back down the pecking order. Despite this, and our excellent home form, our record away from the Britannia Stadium was becoming a worry. The point gained at Wigan was only our second on the road from six matches, and it seemed that we would have to remedy our travel sickness soon. As it was, we had to wait a further five months for that first Premier League away win, by which point is was looking strongly as though our home form would be enough to seal our survival anyway.

Our away form was becoming a concern
  In the early part of the season, our success in the League Cup was proving to be a welcome distraction from the travails of top flight life. Having already seen off Cheltenham and Reading, the latter after a nervy penalty shoot-out, we played host to lower league opposition once again in League Two Rotherham United, and after a comfortable 2-0 victory, we found ourselves in the quarter finals of the competition for the first time in thirty years. Hope bloomed that we could repeat our success of 1972, and with a favourable draw for the next round, at home to Derby, this looked a real possibility. This was, of course, not the case. Stoke don't do cup competitions, and we ultimately limped out, losing to the Rams in early December.
  Next up in the league came a disappointing, yet unsurprising thrashing at the hands of Manchester United at Old Trafford, the Essex club emerging as 5-0 victors, while the ground at five o'clock closely resembled Wormwood Scrubs, full of Cockneys trying to get out.
  It was around this time of the season that Kitson, who after signing from Reading had reportedly been promised the chance to start all 38 league games, was dropped from the side. In his eighteen games for Stoke this season he failed to score a single goal, managed just two assists, and struggled to make any sort of impact on the Potters faithful. Pulis, who is normally so astute in his signings really seemed to have dropped the ball on this one, more than doubling our record expenditure on a player to sign the striker. Kitson just never fitted in to the Stoke side. He lacked the physicality or commitment to embrace the underdog spirit that defines the Stoke squad. There were few tears shed when he returned to Reading on loan in March, immediately saying that he had made "the wrong decision" in joining Stoke. While many of our other summer signings have excelled this season, particularly Abdoulaye Faye, his namesake and compatriot Amdy and Sorensen, who we signed on a free, it was a shame that Kitson could never equal their high level of performance.

An image that sums up Kitson's Stoke career to date
  Normal service was resumed at home the next week, as Sidibe's late header gave us a crucial victory over relegation bound West Brom, before a useful point was garnered from another home game against Hull, though it did see the end to our five match winning streak at the Britannia Stadium, just as its fans were being officially confirmed as the loudest in the Premier League.
  With winter came discontent for Stoke. From our relatively comfortable position in lower mid-table at the start of December, a series of bad results saw us fall back into the relegation zone by the end of the month. December beginning with that dreadful loss to Derby, you could say that it was clear from the outset that it was not to be a happy Christmas for the Potters, though much festive cheer came as a result of our performance away at Newcastle the following Saturday. Two goals down inside twenty-five minutes, we rallied superbly in the second half, ultimately claiming a last gasp draw when Abdoulaye Faye smashed home in injury time, making the long trip worthwhile. Though a former Newcastle player, Faye showed clearly where his allegiances now lie. He charged round the pitch with his finger to his lips, silencing the St. James' Park crowd, with the exception of a small pocket of Stokies, at the very top of the stand at the other end of the ground, who could just about make out enough of the game to realise we'd scored and proceeded to go mental. It was great to see such passion from Faye, and such a great battling performance from Stoke, though this was certainly the high point of a very bleak month.

Pulis and Faye can't wait to embrace
  No such heroics were seen the next week though, as Stoke and Fulham played out the mother of all bore draws. Next we went to Blackburn, hopeful of a first away win, but fell afoul of the new manager effect, with Sam Allardyce's men putting three past the Potters in his first match in charge before half time, a position from which Stoke had no way to recover. Manchester United visited Stoke on Boxing Day, and while we may have been finishing off our turkey and stuffing, Carlos Tevez's goal seven minutes from time knocked the stuffing out of the Stoke players, who looked set to claim a huge point after defending brilliantly all match, before Andy Wilkinson, who has proved a revelation this season, was dismissed for a second yellow card after seventy minutes, allowing Alex Ferguson's side to press home their advantage, leaving us back in the bottom three.
  After a loss, it is often good to move on to the next match as quickly as possible, and our trip to West Ham two days later seemed to offer the perfect chance for us to put our troubles behind us. Unfortunately, this was not the case as what was without the darkest day of our season unfolded at Upton Park. All was going well until half-time, Faye having given us an early lead, but this good work was undone in the second half. Five minutes in, we conceded an equaliser. If this was bad, what happened next was ruinous. Fuller appeared to take exception to something said by Stoke club captain Andy Griffin as the game was being restarted, striking the right-back in the face, and rightly seeing red from referee Mike Jones. In a season where our team spirit has been so good, and allowed us to amount to so much more than the sum of our parts, it was sickening to see an incident like this, the days immediately after it being the one time I can ever remember not being proud to be a Stoke fan. Worse still, we went on to lose the match. It is interesting that since that day, Fuller has kicked on to produce some of his best form, while Griffin has been frozen out of the side. It's clear who Pulis, always the advocate of a level headed dressing room, holds to blame.

Fuller takes his walk of shame
Discipline has been a problem this season. We sit bottom of the discipline table, having had five players dismissed in all, as well as collecting 74yellow cards over the course of the season. This ill discipline has often proved costly. Early in the season we had Amdy Faye sent of at Middlesbrough, and went on to lose the match, which we may well have otherwise got something out of. The same can be said for our games at home to Manchester United and away at Sunderland, when Wilkinson and Matthew Etherington, who would join the Potters from West Ham in January were sent off respectively, and of course for the game at Upton Park. On all four of these occasions we conceded goals in the last fifteen minutes to lose the match.
  January brings the start of the FA Cup campaign for sides in the top two divisions, and, putting December behind us we headed to lowly Hartlepool in search of the first result in what would hopefully become another decent cup run. This is Stoke we're talking about though, and we don't do cup runs. Humiliated enough by the events of the previous week, our position got even worse as we were well beaten 2-0. It was the fourth season in a row we'd been knocked out of one of the cup competitions by a team in League One or below, and brought dreams of Wembley glory to an end for another season, though perhaps significantly allowing us to concentrate on our immediate dream of Premier League survival.

All our deficiencies showed at Hartlepool
  January also brings huge levels of interest as the transfer window re-opens, and with Stoke still in the bottom three, it seemed that two or three more shrews signings from Pulis were a must. All manner of names were of course thrown about, from the exciting, Lyon's Brazilian striker Fred, to the bizarre, Charlton's ageing forward Andy Gray. It became clear that our first solid target was Etherigton though, the left-sided winger soon joining Stoke from the Hammers on three and a half year contract for an undisclosed fee.
  While not a brilliant player, and maybe a touch chicken at times, Etherington has proved to be a good signing, solving the left-win problems we had had for many years, and supplying some excellent crosses for our strikers, while firmly cementing himself as one of the obvious names on Pulis's teamsheet for each and every match. With our poor form, it seemed we had little hope in the game in which he made his debut, Liverpool the visitors to the Potteries. Just as we had done in September, however, we sprung a surprise, once again gaining a point after a goalless draw in which Etherington won the first ever official fans' man of the match vote, now a regular feature at Stoke. Whilst we had given a fine display of backs to the wall defending at Anfield, this was not the case this time round, as we could actually have won the game, hitting the woodwork twice and Kitson missing a good chance.
  The news broke that midweek that we had had a bid accepted for Sheffield United striker, and goalscorer extraordinaire, James Beattie. The day we signed him, January the 12th, eventually sealing the deal for a fee that could rise to £3.5 million, is without doubt one of the most important of our season. He's scored goals throughout his career, and this has proven to be the case once again at Stoke, as he's netted seven times in just sixteen games, firmly establishing himself as a fans' favourite, and a signing almost as inspired as the one of Faye. I only wonder where we would be now had we signed him at the start of the season rather than Kitson. It emerged that Beattie had been a long time target for Pulis, who according to the striker, had him stripped down to his underpants and having a medical when he had just been invited for preliminary talks with the club, before trying to force him to sign in time to play against Liverpool.

The signing of Beattie revitalised our season
  If Etherington had been thrown in at the deep end, starting his Stoke career against Liverpool, Beattie had it even harder as he made his debut the following Saturday away at Chelsea. It still gives me a twinge of regret to write about that match, we were so close to enjoying what would have been without doubt the high point of our season, Beattie making in instant impression, well assisting Delap, who chipped the ball over Petr Cech in the Chelsea goal to put us into an unlikely lead after an hour of the game.
  While it looked for all the world that we would hold on for an astonishing victory, Juliano Belletti equalised withtwo minutes left to play, before Frank Lampard's deflected shot in the fifth minute of injury time gave Chelsea the win, cruelly denying Stoke of a result that would have been talked about for years. It was the most gutted I have even felt after a football match, and the despair I felt after waking up the next morning and remembering it all was horrible. Four months and a lot of points on, with our survival confirmed, it still wrenches my stomach to think about it.
  We had to try to pick ourselves up to face Tottenham ten days later, but it was always going to be difficult, and, seemingly still shell-shocked from the events at Stamford Bridge, we limped to a 3-1 defeat, with some consolation being that Beattie scored his first goal for the club, with an excellent instinctive finish past Carlo Cudicini.

The first of many for Beattie
  At this point, it looked like our season was going nowhere; nineteenthin the league and out of both cups, there were the first stirrings of unrest amongst the Stoke fans, who, having greatly enjoyed our stay in the top flight, were very eager to prolong it. The term must win game was used a lot in the second half of the season, but when Manchester City came to Stoke on the last day of January, there really was a feeling that it was do or die. Half an hour in, Delap was sent off for kicking the ball hard against the prone Shaun Wright Phillips, and it looked like the latter of those routes would be the one we would take. Cue James Beattie, coming from nowhere he rose superbly to power a header past Joe Hart on the stroke of half time, sending the crowd into delirium. Despite near constant pressure, we held on in the second half, backed by the primal raw of the Britannia Stadium masses, to record an unlikely, and hugely significant win.
  There had almost always been belief amongst the Stoke fans that we could stay up, but this result really drove that home. The three points lifted us clear of the relegation zone, and had us hoping we could be upwardly mobile again. It's just a pity that our next two results, a loss at Sunderland, with forward Henri Camara and full-back Stephen Kelly in our team, both having joined on loan earlier in the week, and a home draw with relegation rivals Portsmouth, Beattie scoring both our goals, couldn't back this up, as we slipped back down the standings.
  As February became March, we made the difficult looking trip south to face Aston Villa, who, buoyed by an excellent run of recent form, were sitting pretty in fourth place and on line to break through the "big four" domination of the top of the league and qualify for the Champions League, going into the game six points ahead of Arsenal. Their fans could almost taste those hazy nights in Madrid and Rome as they eased to a 2-0 lead and the game remained that way until three minutes from its end. To come back from such a situation takes incredible spirit, but that is one thing the Stoke side, though not made of the most gifted footballers, certainly don't lack. Spurred on by the always vocal travelling fans, Shawcross pulled one back, before Glenn Whelan cracked home an excellent strike in the final minute of injury time to earn us a huge fourth away point of the season.

It was all too much for Whelan at Villa Park
  Looking back now, I see those three minutes as the defining time of our season. We were going nowhere fast, but came back to produce something special and gain an excellent result against one of the top sides in the country, that giving us the belief that we could and should survive. Although there have been bad days, it's fair to say we've never looked back since that day. Villa fans may well hold that game with a similar, if altogether less positive level of importance. They've won just twice since then, and finished the season in sixth, illustrating the fact that the Potters are here to make waves, not just numbers.
  After that incredible high, it was always going to be easy for Pulis's men when Bolton came to town the following midweek, and, sure enough, goals from Beattie and Fuller saw us on our way to a comfortable victory and a crucial three points, moving us well clear of the bottom three.
  Though the time when we would finally win on the road was close at hand, the old deficiencies were plain to see as we made the trip to Everton. Once again the victims of our own slow starting, we were two goals behind in twenty-five minutes, and eventually could only stumble to a 3-1 defeat. This away day disappointment aside, it always seemed as if our season would be won or lost at home, and this was certainly the case as Middlesbrough came to the Britannia Stadium the next week. With Stoke back in the relegation zone on goal difference, and the bottom half of the table incredibly tight, it was imperative that we did not lose to Boro, the team directly below us.
  In reality we went one better, Shawcross's header, his third strike in four games as it was he who scored our goal at Everton, seven minutes from time, from a weapon that had been left to rust for the previous months, the Delap throw, helped by a fine goalkeeping display by Sorensen, sealed all three points, moving us five points clear of the Teesiders.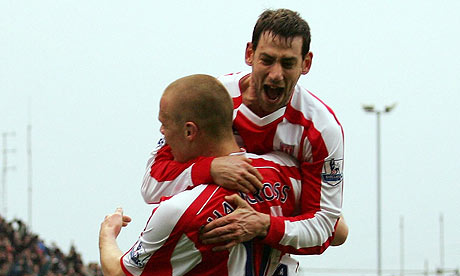 Shawcross and Delap show what it means to them
  It's fitting that Sorensen played so well on this most crucial of days, as all season he had been a dependable goalkeeper, punctuating his solid displays of commanding his area and handling with some eye-catching saves. His fine goalkeeping skills, coupled with his passionate and inspirational celebrations after wins have made him a firm favourite with Stoke fans, and rightly so. Signed on a free transfer, he really has performed better than any of us could really have hoped, and, if it was not for the indomitable displays of the magnificent Abdoulaye Faye, he would have won player of the season for sure. Though he'll be 33 next month, he still has two years left on his current contract, and if this season is anything to go by, I'd be more than happy to see him retain his number one spot for those years and beyond.

Another footballer concerned only with collecting his wages
  Next followed that most unwelcome scourge of form and momentum, an international break, but with the Stoke players having returned from the far flung regions of the globe, our Senegalese contingent having travelled to Iran and back for a meaningless friendly, we headed to rock bottom side West Brom full of hope. With our record against the Baggies amazingly good, and them stranded at the foot of the table, it looked like our first Premier League away win may finally be on the way.
  The players didn't disappoint, Fuller and Beattie scoring in a 2-0 win, Fuller's goal came after an error from West Brom 'keeper Scott Carson in just the second minute of the match. Carson was a 'keeper we were interested in signing in the summer, but he chose West Brom instead, eventually making the switch for around £3 million. While Sorensen's been superb for Stoke, Carson's string of mistakes have cost Tony Mowbray's side a number of points and arguably their Premier League status. How happy I am we dodged the bullet there, ending up with a far better 'keeper for no transfer fee at all.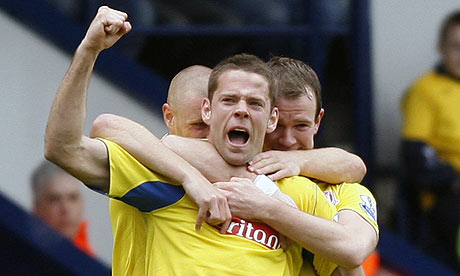 We could finally celebrate a first ever Premier League away win
  We were in the middle of a run of crucial fixtures against sides around us at the bottom, and having beaten Middlesbrough and West Brom, we could look forward to back to back home games against struggling sides against Newcastle and Blackburn. Four points from the two would put us on 39 in total, surely enough for safety, and after a disappointing draw with Newcastle, we dug deeep to claim the points against the Lancashire club. Liam Lawrence's late strike, just the second of the season for the player who hit fifteen last term, was enough to earn the win, prompting a hugely passionate, adrenaline fuelled celebratory charge round the pitch from Faye, one of the lasting images that we have been left with from this incredible season.
  So, with the four games to spare, it came to be that the club paid out on to be relegated after just one game could secure its Premier League survival with a win at Fulham a week later. Sadly, a 1-0 loss proved disappointing, before a home defeat to West Ham by the same scoreline, our first of 2009, added to the nerves.
  It was to Hull we went then, knowing that even a draw could be enough to finish the job, while a victory over the Tigers, themselves in free-fall under the increasingly strange leadership of Phil Brown, would confirm our top flight status. We were well on our way when Fuller put us in front five minutes before half time, before Lawrence doubled the advantage with a stunning strike in the second half. Hull did pull one back late on, but it was nothing like enough to spoil the party for the Stoke fans, who after a long, hard season of the frayed nerves and hardship that come with supporting a relegation threatened club, could finally relax, and celebrate our achievement.

The jubilant Stokies celebrate survival
  The Britannia Stadium has been a place of so many great moments over the course of the season, most of them defined by pressure, tension and ultimate relief, but the final home game of the season, against Wigan, was special in a different way. Free from the worries of relegation, we could cheer on our team of heroes in comfort, the players obliging in giving the home support an appropriate send off for the 2008/09 season, easing past the Latics 2-0.
  Even more pleasing than the victory, was the way in which almost every single on of the 24,000 Stoke supporters in the ground remained well after the final whistle to applaud the players round on their deserved lap of honour. While Pulis hasn't always been popular with Stoke fans, it was great to see the Stoke fans as one singing his name at the end of the match, as a sign of recognition and gratitude for his, and chairman Peter Coates's, work this season that has led to such success.
  Before the match, Abdoulaye Faye had been awarded every single supporters' club's player of the season award on the pitch, nine in total, a figure he would add to by winning the official awards voted by the fans and his fellow players by a landslide margin at the official award ceremony two days later. Faye showed once again why we love him so, showing his true passion for the club and game as he was being given his prizes, becoming quite tearful. He will go down in years to come as a true legend of this football club, and after stating that he wishes to remain at Stoke for the rest of his career, there's a serious call for the club name to be changed, so SCFC would stand for Senegalese Colossus Football Club.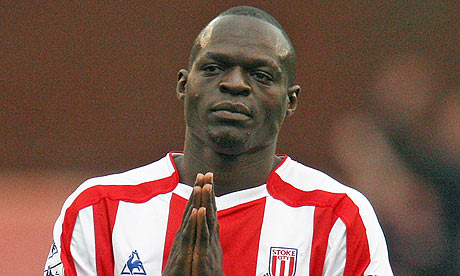 A true hero
  So, on the final day of the season, with the sun shining as it always seems to on such occasions, we headed down to Arsenal to give the players one last sent off. Beaten 4-1, the result was disappointing, but it did little to damage the jubilant mood of the travelling support, who, at the end of the season were ready to celebrate. Wigan having beaten Portsmouth, we ended the campaign in twelfth, meaning we lost the £760,000 extra that would have come with finishing one place higher, but this still represents fantastic over-achievement in our first top flight season for 23 years.
  Though everything looked so grim that day in Bolton last August, nine months, 43 games, fourteen wins, nineteen defeats and ten draws later, we can close the book on the 2008/09 with satisfaction, a sense of accomplishment and maybe a hint of remorse that it had to come to an end, but also knowing we have seldom had more reason to be loyal, be proud, and be Stoke.