You'd have to be some sort of recluse to have avoided the controversy behind France's dubious qualification for the 2010 World Cup. Thierry Henry clearly handled the ball twice before crossing for William Gallas to head home from point blank range.
Thierry Henry won't be ordering a pint of Guinness in Dublin any time soon
This clearly strengthened the case for the introduction of new measures in football. Whether it's video technology or extra officials behind the goal, there's no doubt either of these would have prevented such an event from happening and I'm going to analyse the case for the introduction of extra officials.
Of course introducing a man stood behind each goal would eliminate the majority of dodgy decisions and controversy, but is it really worthwhile? After all, the only game I've seen where they were deployed still managed to get a manager riled up. Everton boss David Moyes insisted that one of the additional assistants missed an incident in the build up to Louis Saha's red card against AEK Athens. So there you are, proof that you will never please everyone with or without the introduction of new officials.
David Moyes wasn't impressed with additional assistant referee's
Personally I am against the introduction of extra officials, video technology or any other new way of eliminating what I believe is a huge element of the beautiful game. Sure, I'm just as angry as anyone when my team concedes a dubious penalty or a player gets wrongly sent off, but how good is the feeling when it goes in your favour? Am I alone in thinking that these occasional mistakes are what make football so unique when compared to other sports?
Football has survived for hundreds of years with a referee and two linemen, so why change now? Lets be honest, you really wouldn't have had much to talk about on your lunch break over the last two weeks without "Henry-gate".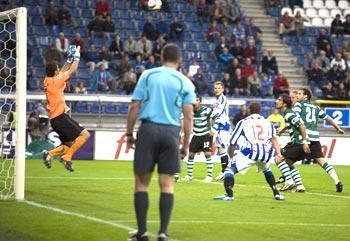 The easiest 90 minutes of work on the planet?
Another reason for my opposition to the introduction of such officials is the hypocrisy shown by UEFA. Sepp Blatter seems to be constantly lambasting top European clubs for spending too much money and threatening punishment. I find it a little rich that he does this then is actively campaigning to waste money on hiring two extra people per game to do a job which really isn't necessary. Fair enough, another two wages for 90 minutes won't be too much, but if it is implimented in every European league it's going to add up. In England alone it will mean paying an extra 184 people per weekend! It's just so unnecessary.
To finish off, video technology is also a huge no from me. Football is a game played at a fast tempo, to be stopping the flow of the game every time the referee may have got a decision wrong would have far too big an effect, especially when Alex Ferguson is pacing the touchline!
I honestly think that whilst it isn't perfect, football is as close as we'll ever get.