On January 7th, The best player of 2012 will be announced by FIFA representatives in Zurich.
The finalists of 23 have been whittled down to just 3, and as expected it contains 2008 winner Crisitiano Ronaldo, hat-trick winner Lionel Messi, and 2010 finalist Andreas Iniesta, who all have good cases to be declared the best player in the world for 2012.
Crisitiano Ronaldo (Real Madrid and Portugal)
Reasons for:
Ronaldo may sit 3rd in the La Liga top scorers list with 14 goals, but his overall consistency throughout the 2012 calendar year can't be overshadowed. Crisitiano has not only been crucial to the success of the Real Madrid championship winning team of 2011/2012 turning up the heat when it really mattered, but he had an excellent European championships tournament too, scoring the inning goal against the Czech republic to send his side into the Semi-finals. The quick feet and skill is mesmerising at times, and his electric pace terrorises defences. He has scored some absolute wonder goals in 2012, is certainly the hub of his club and national side.
Reasons against:
Over exuberant goal celebrations in La Liga, and his hissy fits on the pitch in his body language are not popular even with some of his top fans. He will get stick of the shoot out incident with Spain in the semi final, which ending up in Portugal losing out.
Lionel Messi (Barcelona and Argentina)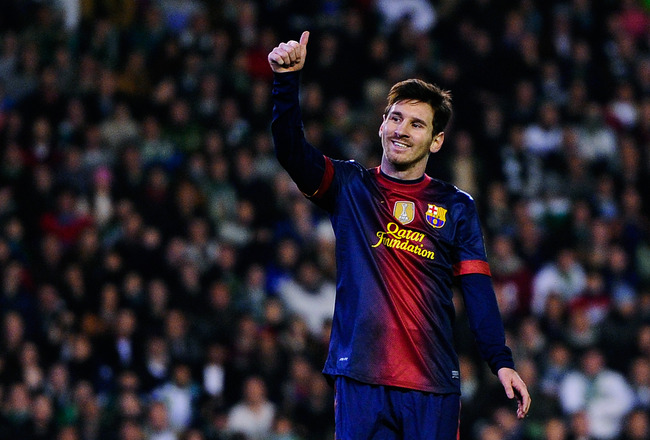 Reasons For:
I'm trying to think of a sensible starting point   for this man but I am struggling, so I am just going to throw in the figures!
24 records were broken Messi in 2012, including the most goals in a calendar year of 91, and currently sits proudly at the top of the top scorers list in La Liga with 26, sits joint 3rd in the assists leader board, and scored one of the most spectacular hat-tricks (Vs brazil) I have ever witnessed. Messi demonstrates skill, speed, balance and agility like no other. He is unique, there is no doubt about that and it's his consistency that has already claimed him 3 Ballon d'Or titles on the trot. It was also the year Messi really hit back against critics who said he doesn't do it for his country, playing spectacular games and scoring spectacular goals along the way. The 'Meesi Chip' as I like to brand it, just gets better, not to mention the vast improvement in his free kick taking ability, and is key to the fact that Barcelona sit top of La Liga, 9 clear of Athletico, 16 clear of Real!
Reasons Against:
If I am to be really harsh, maybe it's time for someone to win for a change? Messi certainly is not as good with his weaker foot as either Andreas or Cristiano, and arguably the fact Barcelona failed to win the Champions league.
Andreas Iniesta (Barcelona and Spain)
Reasons For:
As Graham Hunter suggests, Iniesta is the solutions man. His agility and vision for me is the best in the world, and certainly makes things tick at Barcelona and for the Spanish national team. The ball looks like it's tied to his foot with a piece of string the way he jinks and cuts inside opponents. He is not short of skill but it's his passing and ability to get out of crowded situations with the ball that stands out for me. He simply, never ever panics! His performances in the Euro's were phenomenal throughout; he linked up superbly with Xavi and in the Final simply cut the Italians to pieces, including Andre Pirlo. A lot of England fans were saying, "We need a Pirlo" after England's exit, but I kept banging on that the Spanish midfield would tame the Italian mastermind, and they did just that! Iniesta is top of the assist leader board in La Liga with 10 to his name, and is rightfully in my eyes European Player of the year.
Reasons Against:
Iniesta is not a goal scorer like Messi and Ronaldo; make no argument of that fact. In fact he has only 1 Liga goal to his name this campaign. His performances often go unrecognised, with Messi taking the limelight at Barcelona.
Preferred Outcome:  1) Andreas Iniesta 2) Lionel Messi 3) Cristiano Ronaldo.
Predicted Outcome: 1) Lionel Messi 2) Andreas Iniesta 3)Cristiano Ronaldo.
Images Courtesy of: Forbes, Zimbio, BarcaBlog