"And when you see the starting XI of the Spanish national team, all of them play their football in Spain. The Spanish league also has the highest number of local players."
"The Premier League is the best-marketed league in the world,"
"It's a good league, with good players, but when you consider not one player made the best XI of the world, maybe they should think about whether something can be adapted."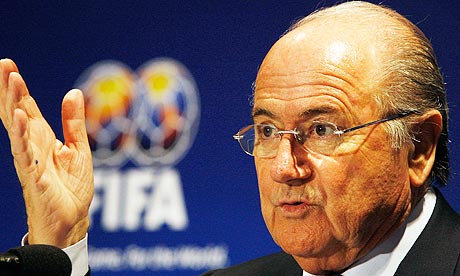 This is what Fifa supremo Sepp Blatter said about La Liga and the Premiership, after news broke about the Fifa XI which included 8 Spanish based players, and not a single Premiership based player.
However, this does not necessarily mean that La Liga is the number one league on the planet.
It is my personal opinion that a league should be judged  by it's playersa alone, but excitement to the neutral, and perhaps importantly in this case, strength in depth.
While Spain does play host to the two best players in the world, the best coach in the world, the best club side in the world and the most anticipated football game of the year, this merely qualifies Real Madrid and Barcelona as two of the best teams in the world.
The last time that any team outside the top two Spanish sides to win the Spanish title was the Rafeal Benitez Valencia side of 2002, now nearly a decade ago. Compare this with the Premiership which has seen 3 different winners of the premiership in the last 6 seasons.
Also look at the current top 5 of La Liga in comparison with the same of the Premiership.
EPL:                                             La Liga
Man Utd                                    Barcelona
Man City                                   Real Madrid
Arsenal                                     Villareal
Tottenham                               Valencia
Chelsea                                     Espanyol
It's fairly easy to point out the obvious. Real Madrid and Barcelona are better than Man Utd and Man City, and would probably cast aside the two Manchester outfits with ease, but Arsenal Vs Villareal, Tottenham vs Valencia and Chelsea vs Espanyol would almost certainly result in a English victory. Also take note of the point separation. There are 11 points between Real Madrid in 2nd, and Villareal, in 3rd. In comparison , there are just 2 between Arsenal and Man City in the same position. So far this season, there have been several teams topping the premier league table, in comparison with the typical two from Spain.
Fair enough, I can accept that La Liga contains some fantastic football, and two of the best teams in the World at the moment, but it is just those two. If you call a league, the best in the world you have to analyse all 20 teams in that league, and frankly, the quality La Liga contains starts at Barcelona, and ends with Madrid.  La Liga have to fantastic teams, some would say the best. But two 2 teams do not make a league.