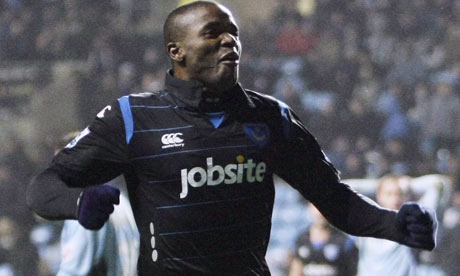 Tuesday evening was an example of why I love football, and more specifically, why I love Portsmouth FC.
Despite playing a dire first half of football, having two players come off injured, a goal down, Pompey beat Coventry City 2-1 in the cruelest of fashions.
Much was speculated of Avram Grant's squad when David James, Younes Kaboul, Steve Finnan and Tal Ben Haim were missing from action.
James had travelled with the squad and was close to return from a longstanding 'calf injury'. It was confirmed today the England international had joined league rivals Stoke City, signing a six-month loan contract. Portsmouth will contribute 50% of the player's wages.
Kaboul, having already played in the first leg of the tie, was said to have suffered from a sudden toe injury. Rumours surfaced he was about to complete a multi-million pound move to Sunderland. This was later denied by the club, stating the Frenchman had simply been rested.
Anyhow, back to the game in hand, the magical game that it was. While stadium officials had worked tirelessly to put the game ahead, it didn't seem to be appreciated by the home supporters. A crowd of near 7,000 people turned up, including 200 loyal Portsmouth fans.
The first half featured little attacking threat from both sides. Coventry were without a number of players due to cup restrictions, naming a number of youth players on the bench. Portsmouth lined up defensively, fielding a 4-5-1 formation, aiming to hold back the Sky Blues' frontline.
Coventry took the lead in the 22nd minute through a superb effort by former Southampton striker, Leon Best. A poor headed clearance from Aaron Mokoena fell into the path of Best, who smashed the ball on the half-volley past the ever-reaching hands of 'keeper Asmir Begovic.
In truth, Coventry were fortunate to take the lead, a lead that in my opinion was against the run of play. But little did it matter, Best took his opportunity when it mattered, leaving the 200 loyal followers wandering if they had been right to travel the long treacherous journey.
To say Portsmouth lacked attacking threat is an understatement of the highest order. Midfielder Kevin-Prince Boateng did his best to create opportunities, mostly for himself, yet was often denied by the marvellous form of Coventry 'keeper Kieren Westwood.
It didn't look to be Pompey's evening, yet, while the score remained at 1-0, there was always a chance to recover.
The second half was drab and dreary, at least until the last twenty minutes. Pompey started showing composure in which they were lacking in the first half.
Clear opportunities arose, with a speculative effort from striker Tommy Smith being tipped round the post by Westwood.
Grant sent on Greek midfielder Angelos Basinas and Nigerian striker John Utaka in the hope to find a goal. The two combined well, often creating opportunities for themselves. Basinas displayed forms of passing fans had not seen for sometime, looking for the obtuse through ball. Utaka, whose form has often been criticised, looked a constant menace to the Coventry defence, yet the ball just wouldn't hit the back of the net.
This was until one of the most fortuitous events of football I've seen in my career as a fan. In the last minute of injury-time, Basinas floated the ball into the penalty-area, which was then headed onwards for Coventry defender Stephen Wright to score past his own keeper. Although it won't mean much to him, great finish.
He certainly showed how Pompey players should score. Mokoena took notes.
I literally laughed in astonishment – how was this possible?
The goal only enabled Pompey to go from strength to strength – they dominated extra-time yet despite all their pressure, it looked like penalties would be the eventual outcome.
Now, Pompey have never had a good history when concerning penalties, let alone penalty-shoot-outs. This was an event no fan was looking forward to.
And then there was FA Cup magic of the highest order. Someone must have been watching over us.
In the last minute of extra-time Portsmouth had a corner. Basinas stepped up to take the kick to float the ball into a heavily crowded penalty area.
Yet despite the significant amount of players apparent, Mokoena broke free to find space. He connected with Basinas' corner and superbly guided the ball into the back of Kieren Westwood's net. It was beautiful and ironic.
Pompey's most heavily criticised player, apart from Hayden Mullins, had become an instant hero. It was a Mokoena moment and for that moment, Pompey just seemed to have all the luck in the world.
Portsmouth can now look forward to a fourth-round tie against Sunderland at home. Ticket details have already been released on the club's official website.