Following Jay Bothroyd's inclusion into Fabio Capello's England squad for the friendly match versus France on Wednesday, the general public have mostly criticised the decision. The belief among citizens alike is that if you do not play in the Premier League then you are clearly not good enough. While I personally feel that this criticism is being directed at the wrong person, I would like to stand up for Jay and the Championship as I feel unwarranted condemnation of this league is undeserved.
The Championship is not a habitat of young and hungry ready made senior national players, however it does provide a place for the embryos of England's future to be nurtured. Joleon Lescott, Adam Johnson and even Bothroyd's fellow recent call up Andy Carroll have all experienced and developed in this well respected division which goes to prove that this league has something – talent. And one person who is most certainly demonstrating that something is Darren Ambrose.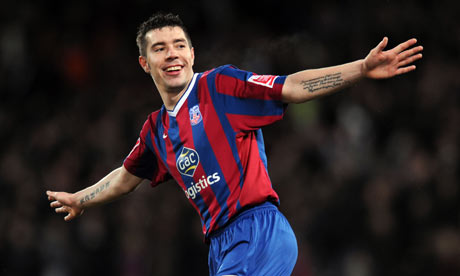 One of the league's best
Another scintillating performance yesterday broadcasted his importance to a Palace side that despite that win, still nestle uncomfortably in the bottom 3. A main reason for the precarious position is the absence of their main man who since his comeback from injury has scored 3 goals in 3 starts, helping the Eagles to a delightful 6 points from a possible 9. But we already had an idea of the attack minded midfielders capabilities.
20 goals last season helped to maintain Palace's 2nd tier status as Ambrose shone when it mattered. 6 goals in 6 consecutive matches around November last year was enough to earn him the division's Player of the Month award but the runaway train that was Ambrose did not dare to halt. He was instrumental in a brief but eventful FA Cup run, providing 2 goals for Danny Butterfield in the 3-1 victory over Wolves and then a sumptuous 35 yard free kick against Aston Villa proved he possesses the ability to play at a higher level. So it was more than justified that he scored the goal that ultimately ensured the team stayed in the Championship for this season after the unfortunate points deduction left Palace wobbling come May.
Even more remarkably, the cash strapped side managed to cling onto Ambrose after a duel with former boss Neil Warnock who desperately wanted the talented midfielder in his new look QPR side. A measly fee was presented to the chairmen who would have accepted had the takeover not been so dramatic and instead Ambrose chose to continue at Selhurst Park and sign a new 3 year deal, much to the delight of the fans.
But the same followers could have been forgiven for contemplating whether he could repeat the feat. Those doubts were extinguished rapidly after Ambrose struck a sublime 20 yard scorcher on the opening day against Leicester City. Once again proving his value to a new look side that had only managed to keep hold of 3 other experienced battlers from the season before, Ambrose was now of even greater value. So his unfortunate injury which had sidelined him for two months has had a catastrophic effect on Palace's results, not to mention fellow midfielder Neil Danns' injury as well as the defensive crisis at Selhurst Park which had rooted Palace to the foot of the table.
Worshipped at Selhurst
 A beleaguered Palace side were enduring another routine loss to a rampant Swansea side at the end of October with little to cheer about as the team were about to be cast to the foot of the table. That was until Ambrose made his long awaited comeback from injury with 30 minutes left to play, coming on as a substitute. The standing ovation for a substitute could only have been matched by Neil Shipperley's 6 years ago after Palace's play off win over West Ham which proves how highly regarded he is around this part of London. Although he had little impact on the match and the following one away to Middlesbrough, the team and fans had clearly been lifted. All Palace needed was time for Ambrose and Danns, who had also started against Boro for the first time in months, to wipe away the calamitous start to the season and gain some fitness.
The fightback began against Watford on Tuesday night. In a first half that the visitors dominated it was the hosts who went into half time with a lead. That man Ambrose it was who struck a lovely curling shot that beautifully dipped over Scott Loach's flailing hand and into the net. He was back with a bang and in typical fashion, the shot had been struck from 25 yards out, which seems to have little difference to the 6 yard box in Ambrose's eyes. The strike seemed to spur Palace on, although they did fall behind soon after the break, but the competition in midfield for goals certainly got to Owen Garvan who copied Palace's number 7 by trying his luck from distance with 2 strikes from 20 yards out, the second a contender for goal of the season, trumping Ambrose's strike from earlier. A 3-2 win gave Palace plenty of confidence going into Saturday's game against Coventry.
And that man again ruled over Selhurst with a superb performance which lifted Palace to second bottom after a double secured a 2-0 win. Controversy over the first goal as Keiran Westwood picked up a debatable backpass which was dispatched with force by the prolific winger. For his second, the penalty spot was used. To the home fans delight, he sent Westwood the wrong way and wheeled away in celebration. It seemed unjust for the man from Harlow to net from two set-pieces after a magnificent display. His manager, George Burley, who gave him his debut at Ipswich Town 9 years ago spoke of how 4 goals could have come his way!
 2nd vs Coventry
 Ambrose has awesome abilities. He had a predatory instinct, vital for scoring goals and can keep the ball while team mates join the play. Even with his lack of pace, he can go past a player with ease and pick a pass that perfectly rolls into ones path. His right foot is his weapon, like a dangerous gunman, he can shoot with dazzling accuracy, and his left one is improving all the time, not least after a curling effort on his weaker foot went just wide yesterday.
However he has the knack of drifting out of games for long periods, but he more than makes up for that by performing at the right times for instance, helping out in defensive situations; his cool head is a welcome addition to a terrifying Palace penalty area.
Deployed on the wing, he has either the exciting Nathaniel Clyne or David Wright for company. Both have their flaws, Clyne's over-exuberance leaves gaps on the right while Wright's lack of pace can also lead to the same problem, this time on the left. Ambrose's same pace deficiency can leave the defence with a lot to do during quick breaks and is an area to improve upon. His heading and strength need to be developed alongside pace as higher level clubs will most certainly be watching with interest.
His relationship with George Burley will be crucial to his career at Palace, whether that remains to be a strong bond between the two that will only be broken with the right amount of money or just a general want from a club with greater ambitions. He is vital to Palace as it seems inevitable that Julian Speroni will be leaving in the January transfer window as the team try to clamber out of the bottom 3 while keeping hold of their assets. No one will deny that Ambrose deserves his chance to play once again in the Premier League as he has the capability but will things work out that way?
This article is by no means suggesting that Ambrose should be included in the England squad. It is purely highlighting the talents of the man who rubs shoulders alongside England's newest striker, proving that the Championship isn't as bad as the image it is receiving currently, as the team second bottom even own a player as talented as Bothroyd.