Four time World Cup winners Germany have revealed their new 2010 away shirt that they will wear in case of a kit clash at the World Cup in South Africa.
The 1996 European Champions have been a major force at the latter stages in the majority of recent international tournaments. The team will be attempting to win their fourth World Cup in South Africa in June 2010 after qualifying comfortably from their group with eight victories and two wins. One of these draws came in the final match after Germany had already qualified following a 1-0 away victory against nearest rivals Russia. The team will have to perform well in South Africa as they have been drawn in a tricky group with Australia, Ghana and Serbia.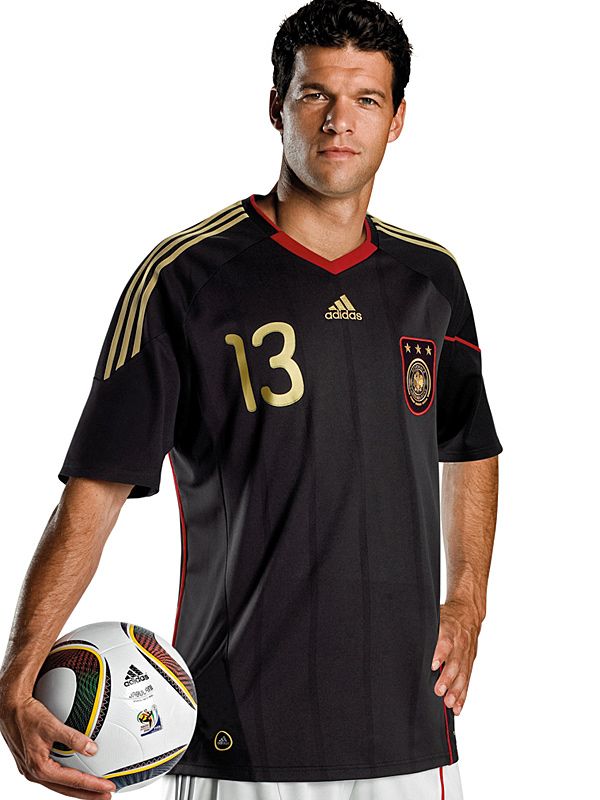 The new Germany 2010 away shirt is predominately black with slightly darker thin vertical pinstripes that run throughout the body and a single red vertical pinstripe that runs down each side. Manufacturers Adidas place their gold logo below the red and black V neck collar whilst the three traditional gold stripes run down the shoulders. The national badge is place in the top left with a red border  and includes three gold stars that represent Germany's three World Cup triumphs. A large gold squad number is also placed in the top right of the shirt.