So, Gerard Houllier is the man at the helm at Aston Villa. He's been in charge for three games now and what have we seen? Two wins and a loss. Not a bad return and there have been a lot of positives, one might say. The new manager has worked wonders, considering the dissulusioned couple of weeks that the club had suffered and to get the squad in a frame of mind that considering a couple of Villa's big name players have shown or told the press that they would of liked Caretaker boss Kevin MacDonald to take the job on a permanent basis. Eventhough, when he was in charge he led them to a 6-0 drumming loss away to Newcastle, got the club knocked out of the Europa League at the first hurdle once again to Rapid Vienna, giving away a 1-0 lead away to Stoke to end up losing 2-1 and drawing 1-1 at home to Bolton where in recent years Bolton had been beaten all ends up at Villa Park. But lets not just talk and mention about the negatives, what about the positives? How about having the nerve to play James Milner in a farewell appearance on the opening day match at home to West Ham where the fans could of had a field day of shouting abuse at such an important and integral piece of the Aston Villa puzzle in the 2009-10 season, where Milner turned in a goal and an overall Man of the Match performance. Making sure the team had a fighting spirit to hold onto a 1-0 lead to defend and hold out a very attackingly impressive Everton side. Also, on a tactical front, playing Ashley Young 'in the hole' just behind the lone striker in a 4-4-1-1 system where Ashley can roam the field to get as much of the ball and use his playmaking skills to full effect where arguably he played his best spell at the club towards the end of the 2007-08 season. Bringing through players that he had worked with through both the Youth and Reserve system, such as both soon to be wing wizards Marc Albrighton and Barry Bannan, a stonewall centre half and current Reserve team captain Ciaran Clark.
Even through all the positives and negatives taken through MacDonald's short stint in the dugout of the First Team, in comes Gerard Houllier. Expect a shake up, new systems, new styles of play, new faces in and around the club. Well, as a matter of fact, he's only done a couple of different things, minimal changes to say the least. He's kept most of the backroom staff, his major changes for that matter have only been to bring in Robert Duverne as a Fitness Coach to make sure Villa can play a game like a marathon, rather than a sprint and "get tired after the 60 minute mark" as an ex-England captain may have suggested in the previous season. Also, to bring in Gary McAllister as his right hand man and Assistant Manager after a couple of well publicised snubs by a couple of targets he may well of preferred. Houllier, has kept the same team as MacDonald did, in the way of the 4-4-1-1 system. Ashley Young, playing the free role. Kept the highly emerging wing talent of Marc Albrighton in the team rather than taking him out for the plagued and out of sorts striker Gabby Agbonlahor. So all in all, not many changed but has tweaked a couple of things that have been seemed to have been swept under the carpet for the time being.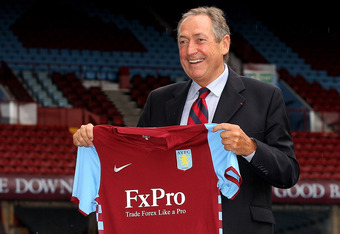 Obviously Houllier cannot put a real stamp on what he wants Aston Villa to look like until possibly the start of next season as generally the January transfer window is rather inflated so he may not choose to bring in players on a permanent basis and just bring players in on loan. So perhaps after a Pre-Season and a good couple of weeks into the transfer window at the start of next summer will truely be the mark of Gerard Houllier's Aston Villa. One thing, I believe the fans will not want is for Mr. Houllier to go out and buy vast amounts foreign players to bring to a club that has recently been built to bring English talent to the club and for these players to get into the minds of the England Manager to get picked for an illustrious call up to the national side. Admittedly, yes, Villa need a 18+ goal a season man to power his way through defences and that may have to be a player bought from abroad but fans will not want to ruin what a British based club and squad Villa have become over the last few years.
 On the other side of this subject, look what Mr. Houllier has done to a certain Emile Heskey in recent weeks… who says he can't be that man that Villa fans want and need.