The new Npower Championship season is getting ever so near, so here is my latest preview of Leicester City's 2011/2012 opponents. This time around I give my thoughts on newly promoted Peterborough, with the London Road faithful often supplied by goal fests last season what can we expect from the Posh in this campaign. Will they struggle to find the net on a consistent basis, or will the team who scored goals for fun in 10/11 bring a certain entertainment factor to the Npower Championship this time around…
Peterborough Preview
Frustrating as it may seem to Peterborough fans they know that their previous history in the Npower Championship hasn't been very promising, and it seems so far this summer the Posh will have yet again no hope of second tier survival. Most teams this season look better equipped than Peterborough United, even though Darren Ferguson has yet again successfully achieved League One promotion as the manager of Peterborough, he has yet to succeed in the next level. Firstly Aaron McLean departed London Road in last season's January transfer window, as he made a switch to Humberside to join up with Hull City, now after the parting of McLean another top class Peterborough striker in the mold of Craig Mackail-Smith has headed out of the London Road exit door. After speculation grew about a move to another Championship side, earlier this month Peterborough's top goalscorer headed for the South coast to join newly promoted Brighton and Hove Albion. With both of their high profile strikers leaving the club, I sadly declare that Peterborough will most likely struggle to cope with life in the Npower Championship in 2011/2012.
Key Players
Even though Peterborough United are destined to struggle this season, and with Craig Mackail-Smith and Aaron McLean departing in the same year the task of carrying the side for the foreseeable, will be down to two midfield players. The pair of Grant McCann and George Boyd have made massive impacts in their times as Posh players, McCann was undoubtedly Peterborough's best signing last season as he made a straight forward impact in the heart of the midfield. A talented footballer the former Scunthorpe player has accurate passing skills and a deadly range of set piece plays. George Boyd will also be a key player this season, now with Mackail-Smith and McLean gone a lot will be riding on the performances of Boyd, a great attacking player Boyd always threatens while on the attack. A skilful and talented player Boyd is also capable playing in the free role position just behind the striker, where he has proved to be deadly before, with incredible movement the 25 year old will be the main attraction at London Road this season.
Manager – Darren Ferguson
Darren Ferguson is currently in his second spell as the manager of Peterborough United. In his first spell at London Road, after securing promotion from League 1 in 08/09, things didn't go according to plan in the Championship, after much hard work from Ferguson the 38 year old struggled to adapt to the managerial quantities of a higher footballing level. Preston though saw potential in Ferguson as he was appointed the manager of Preston in January 2010; however he also failed to combat the reigns at Deepdale as he was unfortunately sacked in December 10. Now back at Peterborough the son of Manchester United legend Sir Alex Ferguson was able to claim another trophy to put in the London Road cabinet as he won the League One play-offs with the Posh last season. With lady luck going against Ferguson's managerial reigns at Championship clubs, you would suspect that Peterborough are the early favourties for relegation, will Darren be able to conquer the second tier of English football or will Darragh McAnthony have a change of heart and sack Ferguson for a second time?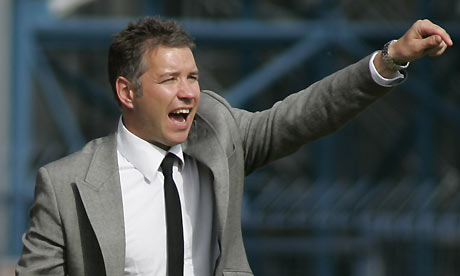 Ins and Outs
Ins – Paul Jones(Exeter), Nicky Ajose(Man Utd), Craig Alcock(Yeovil), Ryan Tunnicliffe(Man Utd), Scott Wootton(Man Utd)
Outs – Nana(Northampton), Arron Davies(Northampton), Chris Whelpdale(Gillingham), Craig Mackail-Smith(Brighton), Charlie Lee(Gillingham), Rene Howe(Torquay), Dominic Green(Released)
Overall Thoughts
As depressing as it sounds the 2011/2012 season for Peterborough United fans could be an unpleasant time of their lives. I can't see past a relegation battle for the Posh this season, with McLean and Mackail-Smith both departing all eyes will be on the duo of George Boyd and Lee Tomlin to score the majority of Peterborough's goals. New signing Nicky Ajose is an incredible prospect, but he hasn't experienced any Championship football in his short career so far. Peterborough United for me will be in a relegation dogfight come May 2012, they could well stay up by the skin of their teeth but it's a doubtful consequence. Prediction – 24th