With the domestic football season still around a month away and a distinct lack of football until then, Olympic football may be the perfect answer to surviving the lack of action. Men's football has very much been a part of Olympic history and its inclusion dates back to 1900. Predominantly a tournament for those under the age of 23, each squad is allowed three players above this age. Previous winners have been much more varied than in World Cups, with Belgium (1920), Poland (1972) and Nigeria (1996) all picking up gold medals. In further contrast to World Cups there has been no winning place for Brazil, despite some of the great youth talent which the country has produced. The country with the most titles is Hungary, who picked up three gold medals in the 1950s and 60s. Great Britain initially fared well with victories in 1908 and 1912 but haven't gone beyond the semi-finals since.
Over the years a high quality of youth has been on show in Olympic football. A 20 year old Carlos Tevez was top scorer in 2004 and players such as Pirlo, Xavi and Eto'o have also featured. Argentina are the current gold medal holders after winning in Beijing with a star-studded team containing Pablo Zabaleta, Ezequiel Lavezzi, Angel Di Maria (above), Sergio Aguero and Lionel Messi. This year Great Britain will bid to win the title on home soil. The tournament is spread across the nation with the Ricoh Arena , Hampden Park and St James' Park all being selected as venues for the competition along with the more familiar Millennium Stadium, Old Trafford and of course Wembley.
The competition has entry quotas to ensure representation from all continents. In the 16 team tournament four teams are from Europe, seven come from Africa and Asia, two come from each of North and South America and there is also a place for one nation from Oceania. Each continent tends to have a special youth competition to determine qualification teams. As in the European Championships the tournament proceeds from a group stage to a knockout format with two teams qualifying from each group.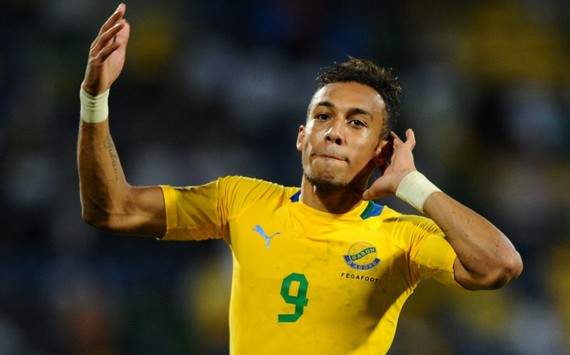 Pierre-Emerick Aubameyang – one of Gabon's star players
There is room this year for Gabon, United Arab Emirates, Belarus, Honduras and Morocco, along with the more familiar faces of Spain, Japan and Brazil amongst others. Argentina will not be present to try and retain their trophy after losing out to Uruguay and Brazil in qualifying. The Great Britain squad faces Senegal, Uruguay and the relatively unknown United Arab Emirates in their group.
As recently announced there was no place offered by manager Stuart Pearce to David Beckham in the Great Britain final 18 man squad, with Ryan Giggs being named as captain. The other two overage players in the squad are Manchester City's Micah Richards and Liverpool's Craig Bellamy.  The squad consists of 13 players from England and five from Wales.
The squad certainly has Premier League experience with Daniel Sturridge, Ryan Bertrand, Aaron Ramsey (below), Tom Cleverley and Danny Rose arguably being the most high profile members of the under 23s. There is also a place for 19 year old Birmingham goalkeeper Jack Butland who was given a place in England's Euro 2012 squad following the withdrawal of John Ruddy. Swansea City is the most represented team in the squad, with Neil Taylor, Joe Allen and Scott Sinclair all receiving call-ups.
The bookies favourites are currently Spain and Brazil. Brazil have included a large amount of attacking talent in their squad, with upcoming star Neymar, Hulk and AC Milan's Pato all featuring in the squad managed by national team coach Mano Menezes. There is also room for Real Madrid's Marcelo and AC Milan's Tiago Silva. After having already qualified for the 2014 World Cup as hosts, the lack of competitive football in the near future means the Olympic football has attracted a great deal of interest back home and the strength of the squad shows serious intent.
Spain still need to reduce their squad from 22 to 18 players before the tournament begins but in their initial list is Jordi Alba, one of the stand-out players of Euro 2012, as well as Premier League representation from Juan Mata and David De Gea. Whilst lacking some of the threat of the national team which has achieved so much success they certainly shouldn't be written off.
It is difficult to predict how Great Britain will fare in the competition, mainly because England don't play under 23 games and because the team hasn't actually played a match together before. The first view we will get of the team in action will be on July 20th in a friendly against Brazil at the Riverside Stadium. On paper the squad definitely has the quality to get out of the group, although they may face a tough battle to win the group ahead of a strong Uruguay squad. Senegal and the United Arab Emirates aren't considered to pose too much of a threat, even if the UAE have taken great steps to strengthen their youth facilities over the last few years.