In the NFL around Draft time analysts often talk about players "Stock". Football does not have a draft system whereby we could analyze prospects to death like our American counterparts however we do have international tournaments which come around every couple of years and introduce lesser known players to the global stage. Rooney burst onto the scene in Euro 2004 solidifying him as one of the worlds best prospects and Arshavin brokered a huge deal off the back of his Euro 2008 performances with Russia. Whose stock was raised by this years tournament?
Alan Dzagoev
Club: CSKA Moscow
Age: 22
Appearances: 3
Goals: 3
A Tsar is Born
Dzagoev is not only a candidate for best Ringo Starr lookalike but  also for best young player at the Euros. The 22 year old midfielder has an impressive record for CSKA Moscow and has been linked with plenty of European candidates prior to the tournament, some might remember him from a 2009 Champions league clash with Manchester United where he scored in a 3-3 draw. Only from my countless hours on Football Manager did i hear of the CSKA Moscow starlet and even at that i did know much about him other than if you had the patience to last about 3 seasons in he could become world class. My first sighting of Dzagoev was against Ireland in the Euro Qualifiers in which he scored his first ever international goal . He would go on to score 3 more goals in the qualifiers but was eclipsed by bigger names such as Arshavin and Zhirkov when it came to Russias pre tournament analysis. However after Russia's blistering 4-1 victory against the Czech Republic in the their first game of the tournament Dzagoev was the name on everyones lips.
Scoring the first and third goals for Russia as well as looking slick and confident on the ball Dzagoev shone in a man of the match performance. In the tense game against Poland, Dzagoev headed (or shouldered) in Russia's opener and gave another assured performance displaying a large range of passing and magnificent ball control. Its a shame that Dzagoev's Euro 2012 ended prematurely as Russia underperformed and managed to lose against Greece. However the tournament will be deemed a success for Dzagoev who has turned himself into one of Europes most exciting attacking midfield prospects. His quick feet, eye for a pass and goal scoring ability and similar haircut initially brought up allusions to teammate Andriy Arshavin, however his performances at the Euros now will see Dzagoev step out of his comrades shadow (Although given Arshavins height you might of already saw him lurking behind him). Potential suitors will hope Dzagoev will be more consistent than the hot and cold Arshavin was in an Arsenal shirt. However at 22 Dzagoev looks a more complete package than Arshavin already and reviews from Russia confirm that his Euro 2012 performances were not flukes.
So who is in the market for the Russian youngster? Tottenham and Arsenal are the two currently been heavily linked. Dzagoev could fit nicely into Arsenal's philosophy, similarly Tottenham have a bright young attacking team and in Andre Villas Boas they have a young and creative manager who would certainly be keen on what Dzagoev could bring to the table. Both clubs also face losing big stars this summer with Van Persie, Modric and Rafael Van der Vaart all been strongly linked to other clubs. While Dzagoev couldn't directly replace any of these players (except perhaps VdV) he could soften the blow of their departure and add a new dimension to their attack. It's hard to find an interview with the young man but a 2008 ESPN interview reveals Dzagoev is a Chelsea fan and sees himself one day playing in the Premier League, given Chelsea's signings of Hazard, Marin and rumours of Hulk this would seem unlikely, however we do know Abromovich's inclination for signing his countrymen.
Theodor Gebre Selassie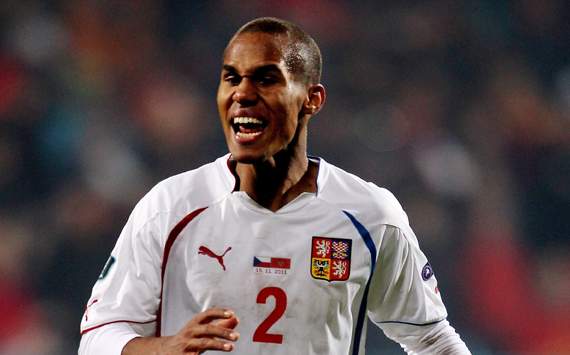 Club: Werder Bremen
Age: 26
Appearances: 4
Goals: 0
Hail Selassie!!!
Selassie was a complete unknown entering the tournament with only a handful of caps and when the Czech Republic were decimated 4-1 by Russia it seemed he would also leave the tournament unknown. However the right back put in an imperious performance against Greece and provided an assist and an excellent defensive performance to raise his stock and attract looks from all around Europe. Selassie who is of Ethopian descent faced racial abuse during the tournament however that didn't deter him from excelling and grasping his opportunity on the big stage. Playing for Czech team FC Slovan Liberec Selassie doesn't have too many opportunities to showcase his talent however he took his shot at the Euros with another solid performance against Poland to help Czech through to the quarter finals and a showdown with Portugal and Ronaldo. Although the Czech team lost to Portugal they were under a siege from the start and their defense and Selassie can be credited with holding the fort for 79 minutes until Ronaldo broke the deadlock.
Full-backs can be hard to judge, the position requires excellent stamina, positioning, speed, as well as defensive and attacking competency. Often a full back possessing one or two of these traits can deceive for a while but are often found out sooner or later. Perhaps the best trait to judge a full back on is consistency, Ashley Cole has long been considered one of the best on the world with consistency been his strongest attribute. Aside from Selassie's poor first showing against Russia he put in consistent performances, he displayed good athleticism, pace and sound judgement in picking his moments to get forward. His workman like performances were rewarded shortly after Czechs exit with a transfer to Werder Bremen. Certainly a meteoric rise from a virtually unknown to one of the Bundesliga's top clubs.
Mario Mandžukić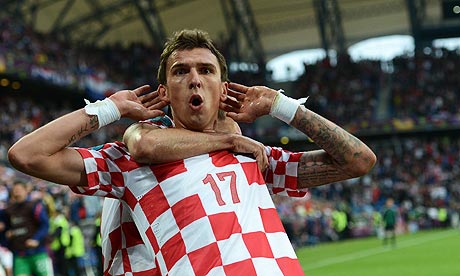 Club: Bayern Munich
Age: 26
Appearances: 3
Goals: 3
I challenge anyone to make a pun of this mans name…
As an Irishman i had assessed all of our threats coming into Euro 2012, and our opponents Spain, Italy and Croatia boasted many threats. However amongst the list of names including Xavi, Ballotelli, Modric, Faberges, Iniesta, Pirlo, Jelavic…etc. I never came across the big man from Croatia Mandžukić. He is not unknown to those privy about European football, he was a highly regarded and successful striker for Zagreb before impressing for Wolfsburg in the Bundesliga. Certainly he must of already been on the coaches radar as a threat but his performance against Ireland came as a surprise to myself and fellow compatriots in the pub as he gave no consideration to our dreams of Euro glory netting two goals. He was dominant in the air, held the ball up well, looked comfortable with his feet and most importantly always looked threatening, especially with his head.
After he crushed our hopes with his impressive performance he went on to score another important goal against Italy to tie the game 1-1. This time he displayed a good first touch and a cool finish from within the 6 yard box. His tournament was cut short when Spain found a late winner to knock Croatia out of the group. Mandžukić's impressive performances sealed him a deal with Bayern Munich, who had their eye on him before the tournament, his 3 goals in 3 games convinced them he was their man.
Mats Hummels
Club: Broussia Dortmund
Age: 23
Appearances: 5
Goals: 0
Mats remains Hummel in defeat
In a Germany team that boasts so much young and exciting talent it was hard to predict that a centre back would be their breakout star of this Euro campaign. Perhaps that was because most assumed the pairing would be a lumbering Per Mertesacker and a shaky Badstuber. However it was a nice surprise to see the German equivalent of Orlando Bloom pairing with Badstuber at the back. Other than been very handsome Hummels is very, very good at football.He showed this in all his performances at the competition, in which he helped Germany emerge from what most perceived as the "Group of death" with a 100% record. Usually it takes central defenders years and years of top flight experience and mistakes to truly master their craft however Hummels already looked like a true veteran. He is confident on the ball, strong in the air, has brilliant positioning, doesn't dive into tackles, basically this and a checklist of everything else you could ask for in a center back. Against Greece when the Germans were struggling to break their opposition down Hummels even drove forward inspiring his teammates reminiscent of Vincent Kompany when Manchester City require a bit of drive. While it may seem premature to speak Hummels name in the same group as arguably the best defender in the world right now, Kompany, some German analysts have spoke of Hummels been the next Franz Beckenbauer, as great a compliment as a young defender can receive. Most neutrals wanted Germany in the final against Spain, but they suffered a shock defeat to Italy in the semis. Hummels was caught out by Cassano in the build up to Ballotelli's first, leaving a blemish on his otherwise excellent tournament.
The 23 year old was trained at Bayern Munich but they were eating Hummels pie when they sold him for a meagre 4 million to Dortmund after impressing on a loan spell. Hummels formed a strong defensive partnership with Neven Subotic that has become the spine for a young Dortmund team which won the German double this year. However their lack of success in Europe means Hummels was relatively unknown to us coming into this tournament. Barring injury we are likely looking at Germanys new defensive rock for the next decade. Hummels is probably on the radar of many top European clubs however signing him will prove difficult, and very expensive as he is contracted until 2017 with Dortmund. Rumour sites have suggested Barcelona are keen having missed out on Thiago Silva. Barcelona often test the fidelity of the most loyal players however Hummels seems happy to remain in Dortmund as part of an exciting young team which could have a real impact in the Champions league in the coming years provided they can hold onto their stars.
Bruno Alves & Pepe
Clubs: Zenit St Petersburg & Real Madrid
Ages: 30 & 29
Appearances: 5
Goals: 1 (Pepe)
A match made in Porto…
I never, ever considered I would be applauding Pepe for anything, but he proved this tournament when he shuns the more despicable aspects of his character and concentrates on his football, he can be quite excellent. Bruno Alves also justified the period where he was linked with just about every big club in Europe a couple of years ago before endinf up at Zenit St.Petersburg. While the rest of this list consists of younger or unproven players, Alves and Pepe have tonnes of international and club experience between them and individually. They won titles together at Porto and have gone onto achieve success apart. At 29 and 30 with two successful careers its hard to see how their stock could rise but it did. On paper analysts assumed Portugal's defence was suspect but both centre backs had solid tournaments helping Portugal emerge from the group of death, with Pepe scoring a goal and winning man of the match in a 3-2 thriller against Denmark. They didn't have much to contend against a impotent Czech Republic attack but the real test came against Spain, where both men excelled against their biggest rivals. Holding any team to 0-0 for 120 minutes is difficult, but this Spain team whom many consider, the Greatest of All time, is truly a feat to be acknowledged. While the entire team played their part it was Pepe and Alves who stood out. A friend remarked after that if an Asteriod was heading for the earth Bruno Alves would have no problem heading it away. This image will stick with me for life. It is a fitting compliment/fantasy, to the men who withstood Spain's onslaught. It was upsetting to see Alves miss his penalty, after such a great display he deserved better, it remains a mystery to me why Alves who is rather uncultured with his feet and not the most technical of players was called up to the spot, but one can only assume it is because of his strong character and nerve.
Pepe who often plays the villain tucked his penalty away nicely, but for once it was hard to feel anything other than happy for him after a great display, its unlikely he will keep his nose clean and stay out of trouble. When it comes to play acting, sly stamps and occasionally outright assault Pepe is the master. However he is also a very talented footballer and hopefully this is an indication that he can put his petulant past behind him and continue to impress as a player. It was only the introduction of an arch rival Barcelona's Pedro that drew Pepes first yellow of the tournament after "doing" the poor catalonian. We can forgive him for one…As for Alves, a player buried away in the Russian league it was a chance to see him in his prime and question what could of been had he of signed for one of the many English clubs apparently pursuing him back in 08/09, at 30 years old its not too late, but it would be costly.
Notable mentions: Danny Welbeck (Proved his importance in Hodgsons England starting every match, but still needs to score more)  Mathieu Debuchy (looked solid enough but still would consider Sagna above him) Jordi Alba(Was likely thought of just as highly prior to the tournament)  Andy Carroll (just for that ludicrous rumour that A.C want to sign him because of his header) Andrea Pirlo ( Everyone knew he was a great but at his age and given the expectations of the Italy team he really stood out)