With the Iberian derby fast approaching it's time to take a closer look at previous meetings between the teams.
International Friendly 1921: Spain 3-1 Portugal
Spain's first ever international friendly game against Portugal was on December 18, 1921 at the Campo de O'Donnell in Madrid, with the Spaniards emerging victorious. Meana netted the opening goal of the match in the 20th minute and three minutes later Paulino Alcantara doubled the hosts' lead. The former Barcelona striker scored his second in the 50th minute. Portugal's Augusto pulled one back from the spot in the 75th minute but couldn't stop the Spanish from winning.
World Cup 1934: Spain 10-2 Portugal (agg)
Spain and Portugal were clubbed together in Group 2 of the European zone for the 1934 World Cup qualifiers. The winners were to go through to the grand finale. The first leg was played at the Estadio Chamartin in Madridand to this day it remains Spain's biggest win ever against the Portuguese. It finished 9-0, with striker Isidro Langara scoring no fewer than five goals, one of which was from the penalty spot. Luis Regueiro scored a brace while Eduardo Gonzalez and Marti Ventolra scored a goal each.
The second leg took place at the Estadio do Lumiar inLisbona week later and once againSpainemerged victorious. Vitor Silva netted for the hosts as early as the 10th minute but Langara turned on the style once more, hitting the target twice in quick succession. It finished 2-1 toSpain, who qualified for the World Cup finals that year.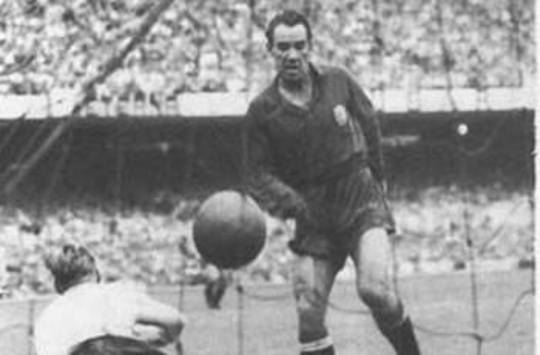 World Cup 1950: Spain 7-3 Portugal (agg)
Spain and Portugal were clubbed together in Group 6 in the European zone in the 1950 World Cup qualifiers. In the first game, played at the Nuevo Chamartin in Madrid, La Roja hammered the Portuguese 5-1. A brace from Telmo Zarra and a goal a piece from Estanislao Basora, Jose Luis Panizo and Luis Molowny were enough for the Spaniards to secure an imperious victory.
The return fixture played at in Lisbon saw Portugal fail to defeat Spain. It ended 2-2 with Zarra once again scoring for the Spaniards. Spain qualified for the World Cup finals and eventually finished fourth in the competition. Apparently, Portugal were invited to participate in the World Cup finals too but they declined.
Euro 1984: Spain 1-1 Portugal
Having drawn their opening games, the Iberian neighbours knew they could scarcely afford to lose, but also that victory would virtually assure them of a semi-final berth. Neither such scenario played itself out, with both teams forced to settle for a share of the spoils.
Spainlooked the more likely victors in the early stages, Portuguese goalkeeper Bento called into action to keep out Santillana and Ricardo Gallego. With Rui Jordão up front on his own,Portugalnever looked like unlocking the Spanish defence.
Without a chance to their name, they then went in front seven minutes after the break, Alvaro Magalhães coming up from the back to feed António Sousa, who beat Luis Arconada with a superb chip.Spainthen breathed a sigh of relief when Chalana – after a brilliantly intelligent drop of the shoulder brought him a metre of space – hit the bar from more than 20 metres out.
That reprieve proved particularly welcome with 17 minutes remaining, Santillana firing in after Portugal had failed to clear a corner. Bento then saved from Lobo Carrasco to ensure a draw – whether it would be sufficient for either side remained to be seen.
Euro 2004: Portugal 1-0 Spain
Portugalwere the hosts of the European Championships in 2004 and were placed in Group A alongside Greece, Spainand Russia. In the final round of matches in the group stage, the Iberians confronted each other. Portugalneeded a win to avoid an early exit from the competition as they had lost to Greecebefore beating Russia. Spaintoo needed maximum points to assure qualification to the quarter-finals.
In a match that took a while to spark,Portugal striker Nuno Gomes scored the only goal just three minutes before the hour mark. Gomes, who had come on for Pedro Pauleta at the break, found himself with a half-chance from a nicely crafted flick from Luis Figo, and the Benfica forward put the ball onto his right foot before unleashing a 20-yard shot that seared into Spain's net past goalkeeper Iker Casillas.
Both sides had chances after that, with Raul heading over the crossbar from a misread cross and Fernando Torres then failing to hit the target with only goalkeeper Ricardo to beat after Xabi Alonso sent him through. At the other end Figo came close with a free-kick that his then club-mate Casillas parried for a corner, from which the Spain goalkeeper had to save a Costinha header.
The match eventually finished 1-0 to Portugal, giving the hosts their first win against Spain since 1981. The victory sent Portugal through to the knockout stages before their eventual appearance in the final, while Spain went home.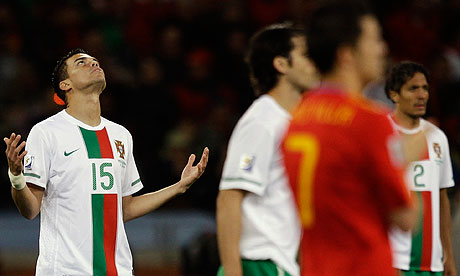 World Cup 2010: Spain 1-0 Portugal
It was sweet revenge for Spain as they more than made amends for their disastrous Euro 2004 campaign just a little over six years ago when it was ended by a 1-0 defeat to Portugal in the final group game. In Cape Town Stadium in the summer of 2010, it was Spainwho ended Portugal's World Cup dreams with a similar scoreline.
The game itself was a disappointment. Billed as an entertaining, enthralling World Cup last-16 clash between the two flamboyant, stylish Iberian rivals, Portugal decided to shut up shop from the opening whistle and once again, la Furia Roja had to fight through line upon line of defenders. And Carlos Queiroz's side looked to have done enough to frustrate their neighbours as the tactical chess battle was at an impasse for over an hour.
But up popped eventual joint-top scorer David Villa with the all-important winning goal on 63 minutes, with a little help from a rebound and a genius back-heel flick from Xavi. Spain celebrated their progression to the quarter-finals before going on to lift the trophy for the first time in their history, while a grumpy Cristiano Ronaldo spat towards the camera and criticised the tactics of his coach Queiroz, who himself was banned for interrupting a doping test, and then dismissed by the Seleccao FA after the tournament.
International Friendly 2010: Portugal 4-0 Spain
Portugal gained a measure of revenge for their World Cup exit at the hands of Spain by inflicting a humiliating 4-0 defeat on their Iberian neighbours inLisbon last night. Goals from Jorge Carlos Martins, theSpain defender Sergio Ramos, who put into his own net, Hélder Postiga and Hugo Almeida condemned the world champions to their biggest defeat since 1963, when they lost 6-2 toScotland.
| Date | Match | Result | Score | Competition |
| --- | --- | --- | --- | --- |
| 18 Dec 1921 | Spain v Portugal | L | 3-1 | International |
| 17 Dec 1922 | Portugal v Spain | L | 1-2 | International |
| 16 Dec 1923 | Spain v Portugal | L | 3-0 | International |
| 17 May 1925 | Portugal v Spain | L | 0-2 | International |
| 29 May 1927 | Spain v Portugal | L | 2-0 | B v A |
| 10 Jan 1928 | Portugal v Spain | D | 2-2 | International |
| 17 Mar 1929 | Spain v Portugal | L | 5-0 | International |
| 30 Nov 1930 | Portugal v Spain | L | 0-1 | International |
| 02 Apr 1933 | Spain v Portugal | L | 3-0 | International |
| 11 Mar 1934 | Spain v Portugal | L | 9-0 | FIFA World Cup |
| 18 Mar 1934 | Portugal v Spain | L | 1-2 | FIFA World Cup |
| 05 May 1935 | Portugal v Spain | D | 3-3 | International |
| 12 Jan 1941 | Portugal v Spain | D | 2-2 | International |
| 16 Mar 1941 | Spain v Portugal | L | 5-1 | International |
| 13 Mar 1945 | Portugal v Spain | D | 2-2 | International |
| 06 May 1945 | Spain v Portugal | L | 4-2 | International |
| 26 Jan 1947 | Portugal v Spain | W | 4-1 | International |
| 20 Mar 1948 | Spain v Portugal | L | 2-0 | International |
| 20 Mar 1949 | Portugal v Spain | D | 1-1 | International |
| 02 Apr 1950 | Spain v Portugal | L | 5-1 | FIFA World Cup |
| 09 Apr 1950 | Portugal v Spain | D | 2-2 | FIFA World Cup |
| 03 Jun 1956 | Portugal v Spain | W | 3-1 | International |
| 13 Apr 1958 | Spain v Portugal | L | 1-0 | International |
| 15 Nov 1964 | Portugal v Spain | W | 2-1 | International |
| 26 Sep 1979 | Spain v Portugal | D | 1-1 | International |
| 20 Jun 1981 | Portugal v Spain | W | 2-0 | International |
| 17 Jun 1984 | Portugal v Spain | D | 1-1 | European Championship |
| 16 Jan 1991 | Spain v Portugal | D | 1-1 | International |
| 15 Jan 1992 | Portugal v Spain | D | 0-0 | International |
| 19 Jan 1994 | Spain v Portugal | D | 2-2 | International |
| 13 Feb 2002 | Spain v Portugal | D | 1-1 | International |
| 06 Sep 2003 | Portugal v Spain | L | 0-1 | International |
| 20 Jun 2004 | Portugal v Spain | W | 1-0 | European Championship |
| 29 Jun 2010 | Spain v Portugal | L | 1-0 | FIFA World Cup |
| 17 Nov 2010 | Portugal v Spain | W | 4-0 | International |
Related Posts: