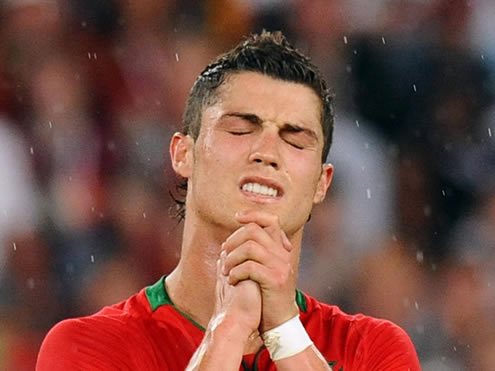 Ronaldo will be praying 2012 will bring him the International winner's medal he so desperately craves
Record-breaking goal-machine Cristiano Ronaldo is at the peak of his career but the world's most expensive player still has one unfulfilled ambition – to win a major international trophy for Portugal.
The 27-year-old Real Madrid forward's trickery, pace and ferocious shots will be a highlight at Euro 2012 where he hopes to captain his country to a long-awaited success. His determination to do well will be stronger than ever after Real Madrid's failure in the Champions League this season despite their almost certain title success in La Liga.
However the pressure really is on Ronaldo, along with his side, predicted to exit the competition at the group stages after being placed in the 'group of death' with Germany, the Netherlands and Denmark, as he aims to known Lionel Messi off his pedestal and become the best player in the world.
Speaking of his desire to win Ronaldo said: "We will go to Euro 2012 with the ambition to win. We know it will be difficult, but we have to think logically. The group stage will be difficult, but nothing is impossible. We have to have ambition, both in football and in life, to always be the best"
His faith in his team could be the key to Ronaldo's personal success. Ronaldo is at his least effective when he plays with an unhealthy narcissism. It happens when he is most under pressure, or when he lacks faith in his team-mates. He demands the ball, he dribbles, he shoots but he ceases to be part of the collective. Team-mates appear little more than a distraction.
There was one moment that summed up Ronaldo's performance at the last World Cup – having fired another excessively ambitious long-range shot high and wide, he looked up to check himself out on the giant stadium screens. It seems when he takes on too much his overall effect is too little.
Like his nemesis, Argentine Messi of Barcelona, Ronaldo has chronically underperformed at international tournament finals. In the four major tournaments Ronaldo has taken part in so far, Euro '04 and '08 and World Cup '06 and '10, his performances have always fallen short – in 19 appearances he has only managed five goals and four assists.
Cristiano Ronaldo's record at major international tournaments     

| | | | | |
| --- | --- | --- | --- | --- |
| Tournament | Games played (as substitute) | Goals | Assists | Portugal's Progress |
| Euro 2004 | 6 (2) | 2 | 2 | Runners-up |
| World Cup 2006 | 6 | 1 | 0 | Fourth Place |
| Euro 2008 | 3 | 1 | 1 | Quarterfinals |
| World Cup 2010 | 4 | 1 | 1 | Last 16 |
| TOTAL | 19 (2) | 5 | 4 | |
Without doubt Ronaldo's desperation for success with Protugal is driven by the painful memories of how close they have come in the past. At Euro 2004, when Portugal still relied on the declining powers of Luis Figo and Rui Costa, Ronaldo came agonisingly close to glory but Greece shocked the hosts in the final. A young Ronaldo was left in tears and, although he was picked for the team of the tournament, he scored only twice. If that was a personal disappointment, it was deepened in the three major tournaments that followed when he scored just once at Euro 2008 and at the World Cup finals in Germany and South Africa.
His critics say this is the main reason that Ronaldo, like Messi, cannot be compared to past greats like Pele, Diego Maradona or Eusebio, all of whom are remembered for stunning tournament performances.
Mark Doyle wrote for Goal.com: "Ever since (2004), he (Ronaldo) has been dogged by accusations that he cannot replicate his club form at international level."
However his team mates are backing him for success. "Cristiano has always had a lot of responsibility since he was 18," Madrid and Portugal team mate Pepe has said. "People put a lot of pressure on him. The squad needs to give support to Cristiano so Cristiano can be calm and play his football."
Ronaldo's club record with Manchester United and Real Madrid speaks for itself. Last year he added Spain's Copa del Rey to his Premier League, Champions League and FA Cup titles at United. This year he added La Liga to that list as Madrid fended off Barcelona.
He won the FIFA World Player of the Year award in 2008 and two European Golden Boot trophies, including last season when he grabbed 40 league goals, a figure already surpassed this term with 43, exactly the same total as Messi.
His success is as much a product of his own hard work as his talent as he has improved himself, and his goal ratio, steadily.
He is close to averaging a goal in each game during the last two and a half seasons at Real Madrid compared to 0.5 goals per game in six seasons at United where he developed from a winger into an all-round striker.
For Portugal coach Paulo Bento one key task will be to bring out the best in Ronaldo, enabling him to repeat his club form. Although since succeeding Carlos Queiroz in September, 2010, he appears to have found the right approach to this challenge, Ronaldo's form for Portugal having improved along with his integration into the team. Bento, who first worked with Ronaldo at Sporting Lisbon, has given him a free role in the squad allowing him to create chances with a lot of support.
There are sings Ronaldo is primed to deliver. He was Portugal's top scorer in the qualifiers, with nine goals, and it was one of his trademark tomahawk free kicks that inspired a memorable 6-2 aggregate victory over Bosnia to secure their passage to the finals.
At Euro 2012, Ronaldo's performances will be nothing short of crucial. His combination of speed and stepovers may be thrilling, but it will be his part in Portugal's collective effort that matters as they bid for success. If all goes to plan, Ronaldo could be set for a defining month in his career. The big question is whether he can banish the demons of major tournaments past to realize his ultimate ambition – and lead Portugal to glory.
Related Posts: