Heartbroken diehards at the DW witnessed a painful end for their ailing football club in May. The end of an era with Premier League life about to be replaced by Championship slogging, the finale of a demoralising season under the guidance of Avram Grant and the end of many players' futures at Upton Park. Yet they remained unaware that their suffrage may now be confined to the past.
The writing had been on the wall for far too long; their proverbial bubbles had long since burst. A miserable season was finally compounded by a goalkeep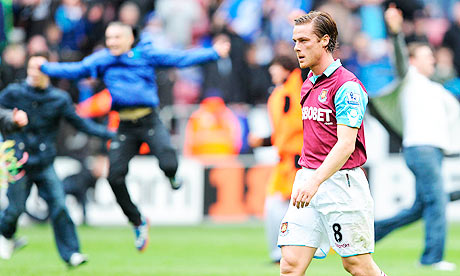 ing error as jubilant opposition celebrated amidst scenes of sheer despair in the away fans section. Even rivals Millwall stole in on the act, taunting via an aircraft way above the ground. It seemed as though everybody was laughing at West Ham.
But for how much longer?
Almost immediately after Avram Grant's duties had been relieved, the negativity seemed to drain away. Regardless of a meaningless 3-0 defeat at home to Sunderland under Kevin Keen, you felt that in an easier league, the Hammers may start to enjoy winning games again.
Saddled with £100 million worth of debt which almost goes unnoticed at times, the owners seem to be asserting their own emphasis on the club, running it their way, as if relegation is no setback.
Not that that's bad for the club; big money has already been spent in terms of wages for new boss Sam Allardyce and centre back Abdoulaye Faye and, rather more obviously, £4 million on Kevin Nolan.
In the process of a long term vision for the club, the men (and woman) with the money seem to know what they're doing. The club was in a state when they bought it and now, as fans themselves, they're trying to revive a fallen giant.
Consisting of David Gold, David Sullivan and Karen Brady, the key aim was to be better organised off of the pitch. The previous regime under Icelandic Eggert Magnusson took on too much in the hope of short term success and ultimately couldn't finance a side made up of many players of inadequate standard to play in the Premier League.
Kieron Dyer, Robert Kovac and Luis Boa Morte were of those inherited by the team of 3, some would say they'd struggle to gain a starting berth in a Championship club's line up!
By throwing money at the club sharpish in Ilan and Benni McCarthy, the aim of staying up in 2010 was reached. The same technique was trialled again; Thomas Hitzlsperger, Demba Ba and Frederic Piquionne all came in to try and maintain their status in the Premier League.
It failed yes, but with owners willing to invest and go down with a fight in tough circumstances you have to hand it to them.
And now they're doing it again!
However, these guys are football people and have made some shrewd moves. Ignorant of the fact that West Ham are now a Championship club, the team have managed to lure big names in such as Allardyce and Nolan as the reputation of the club still remains high.
The mood has changed down at the Boleyn. Positivity reigns supreme despite the miserable viewing of a fixture card which omits such buoyant away days like The Emirates or Old Trafford in favour of The Keepmoat Stadium or London Road.
The winning feeling may creep up on disillusioned Hammers with greater consistency this season and by following the pattern taken by Newcastle United, under an astute manager West Ham may find themselves in a pretty position in two years time.
However, as firm favourites to go straight back up, the pressure may set in slightly more than one may expect (take Middlesbrough last season for example).
They will be the scalp of the division; teams will up their game at Upton Park and for a team with youngsters like Freddie Sears, Jack Collison, James Tomkins and Junior Stanislas, the expectancy of 35,000 may be too much. They weren't expected to win last year, now they have to win every game.
If not the situation may change dramatically. Under a tighter budget, the parachute payments will not distribute the costs for long. Spending to make an immediate return may be the correct decision in the short term as West Ham aim to be established once again in the Premier League before their planned move to Stratford, yet the strategy is easier said than done.
Southampton, Leeds and Charlton all had the same plan and all found themselves squat in League 1. Should West Ham fall at the first hurdle, a downhill spiral of similar proportions may await.
On the other hand, the owners and fans are passionate and control of finances will not be compromised. The club remains large in reputation which will no doubt lure in some talented players and under Big Sam's control I feel that they will do well. 
The side is slowly imploding; Demba Ba, Victor Obinna and Manuel da Costa have all departed. In all likelihood Scott Parker, Robert Green and Carlton Cole will exit in turn. Yet a strong nucleus of passionate, youthful players remains and under expert guidance from manager Allardyce and captain Nolan, sensible punters are backing the Hammers to bounce back.
A lot of transfer activity has still to occur – rumours today of Craig Mackail-Smith joining the club are rife, and with the sort of contacts Allardyce has, like Nolan, who are willing to play at this level, only a Millwall fan would put money against them.