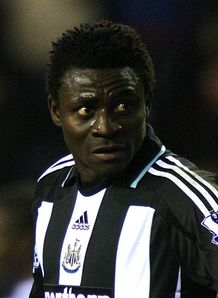 Apparently Obafemi Martins is considering Leaving Newcastle in the summer. He has stated his displeasure in the amount of playing time he has been receiving under Kevin Keegan and would like to move on, in hopes of playing regularly.
Personally, I say let him go, but only if you get something good in return. A lot of cash or a good player and some cash would be a good deal. I really don't see why Obafemi is complaining, he's getting enough playing time. In fact, he's getting more time then he deserves. A manager is only going to constantly play you if you're actually contributing and performing well. Martins isn't contributing and performing well and this is why Keegan is playing him less. As a professional used to playing for big teams I'd think he should know that your only going to get a ton of minutes if your contributing reguraily and if you're not then don't complain. Prove to the manager that you should be getting more time. When your out there, score some goals, create some plays. Do something otherwise your just a waste of a spot on the field.
Also, I didn't expect Martins to be voicing any displeasure. He has previously stated that he's happy under Keegan and that he is going to try to use the new manager coming in as a fresh start. Who knows, maybe what he said was taken out of context and twisted into this. All I know is that maybe we should be getting rid of him this summer.
Martins hasn't been very consistent at Newcastle with his only scoring frenzy coming late last season. This season, he hasn't proven much either and I say that maybe we should let him go. Preferably, he gets his act together and we keep him. That's the more desired option. But, if he doesn't then maybe we should sell him. I'm pretty sure Keegan's thought of this too. I guess we'll just have to wait and see.
EDIT: Aprrently he's now commited to Newcastle  http://www.skysports.com/story/0,19528,11678_3355022,00.html