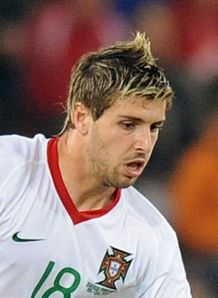 Alright well agent of Sporting Lisbon midfielder Miguel Veloso has confirmed that there are in talks with AC Milan about Veloso going to AC.
I like this contract a lot, it looks like a great deal in the works and man I love it that Veloso might become a AC Milan one of these days.
AC Milan needs his kind of talent and who better to give to us than Veloso himself.
This is great deal and since Kaka silenced the Chelsea links yesterday and told them that he is happy at Milan.
This deal is a great one, because it gives Kaka another person to take the pressure off of him.
Oh and what happened to the Drogba deal???? I am not hearing a lot out of that deal.