I know by looking at the title you will think this is just another sweeping generalisation by another writer trying to give another opinion but there is evidence to prove this.
Now that the incident at Eastland's or `Middleastland's` as it also known as (due to Manchester Cities owners place of origin) between Emmanuel Adebayor and the Arsenal has died down, its time to think on how us fellow football fans think that because one player reacts to years of abuse through provocation, the fans still think they are in the right and the player's are in the wrong.
Now on that particular subject, it was a day of high tension as Adebayor played his first match against his former employers Arsenal after his £25 million move. His days at Arsenal were always Black or White. Meaning he was either both brilliant and putting unbelievable performances in one game or playing so badly that John Prescott with a Half-Pounder propelled down his throat would play better. This therefore ensured that he had outstanding performances like a few memorable ones against Spurs, however atrocious performances like in the 1st leg in the Champions League Semi-Final against Manchester United where he tried as much as a politician, teacher or environmentalist does trying not to be politically correct about everything. During his whole Arsenal career he was never completely loved, or never completely hated by the supporters. There was always a lot of fans who for whatever he did, always had something to scrutinise him about like his work-rate, number of goals or his passion for Arsenal, this lead to his sale and collective hatred among the red half of North London towards him. Bringing back to the point on football fans being cowards, this lead to bad-tasted songs being sung about his parents, then him running the full length of the pitch to celebrate when he scored which provoked the Arsenal fans to throw chairs, bottles at him and attempt to barricade the pitch.
At the end of the day he was reacting to things being said about his parents. Now if someone or a group of people decided to sing something derogatory about any of your parents I wouldn't expect you to stand there and do nothing. I would expect you to react either in a calm fashion, or a not so calm manner. Reacting in a not so calm manner is precisely what he did. All he did was score, run 100 yards to the other side of the ground and knee slide towards the Arsenal fans. Now if the Arsenal fans (of which I am one of them) can't control themselves then that is their problem. At the end of the day they are the ones abusing him and he's reacted back. In my book that's even. However if you've been to a football match and in the heat of battle a player provokes you, you and the other thousands of fans feel invincible and go into a `I haven't done anything wrong, it was all him` state of mind.
That's only one incident, you have to look at the bigger picture. Most fans earn a below average wage and see going to football as a release and a chance to relieve their anger from the working week and of course putting their heart and soul into supporting their club. Footballers see playing matches in front of crowds as a chance to display their talent. However if you're in Lucas Leiva's case then it's another day at the office; playing rubbish and stealing £40k from Liverpool FC every week. Fans whilst supporting their team see belittling other teams fans, players, managers or even region's as a way of supporting their team.
Players such as Ashley Cole, Adebayor, Frank Lampard, Craig Bellamy, Joey Barton, John Terry and Robbie Savage are the players who get the wrath from opposition fans the most. Cole showed his two fingers to Arsenal fans after a fierce London Derby between Arsenal and Chelsea, Adebayor ran the length of the pitch to celebrate in front of the Arsenal fans when he scored and Bellamy punched a Man Utd fan after he ran on the pitch in the Manchester Derby. However the most memorable example of a footballer reacting to a tirade of abuse from a fan was the Eric Cantona Kung-fu kick against a Crystal Palace fan. No it isn't acceptable to attempt to cause physical damage towards a paying supporter. Nonetheless it isn't acceptable for a fan to shout out so much abuse, and to be specifically singled out by a player that he wants to cause damage to you. I'm not saying if you are in a group it's alright to shout abuse.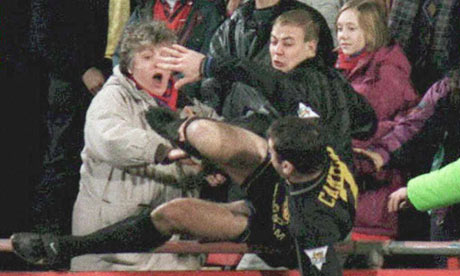 But that's the point about this, we as in football fans are cowards because we will happily shout abuse to a player when we are with a group of people happening to be saying the same thing as you, but when a footballer fights back and goes on the attack, immediately the fans feel that the player is doing wrong by standing up for themselves. I love banter between players and fans but we all have to learn that there are limits.
Talking of the reaction from players, only a select few involved physical violence, this is a completely different subject altogether but just briefly I will explain a few points about physical violence but most specifically between fans. Ignoramuses who use football as a pathway to relieve their physical anger on other supporters don't deserve to be anywhere near football grounds. Films like `Football Factory` and `Green Street` don't promote football violence, they portray a certain type of accuracy towards it by showing that the hooligans don't care about football as between the two films only once was there a scene showing a football match. The brilliant game of football in my view should be verbal, just verbal and remain verbal, none of this football hooligan or `I'm a Millwall fan so I'm hard` type of attitude. Football should remain just for football lovers and no-one who is interested in fighting rather than getting behind their beloved side. It's for the best. At the end of the day it's our national sport for Christ sake.