Today brings another a Player Profile, with the highlight on Blackburn's Norwegian winger Morten Gamst Pedersen.
Morten Gamst Pedersen is a winger currently attached to Premier League side Blackburn Rovers.
However, it was at Norwegian Premier League club Tromso that Pedersen made his breakthrough. The 28 year old totalled an incredible 43 goals in 85 appearances for the club. This goalscoring promise caught the eye of Blackburn manager Graeme Souness who decided to sign the winger on a potential £2.5 million deal.
It was at Norwegian club Tromso that Pedersen started his career at.
Under Graeme Souness, Pedersen struggled to make an impact for the Rovers and when Souness was replaced by Mark Hughes, Pedersen was dropped and didn't feature for Rovers.
However, the beginning of 2005 saw Pedersen's fortune change as the Norwegian racked up a host of goals to leave him sitting in second place in the Blackburn Rover's top goalscorers table.
Pedersen currently plays  on the left wing where the Blackburn fans see him a constant threat with his trusted left foot. This also allows Pedersen to take set pieces for the club where his pinpoint accuracy assists his colleagues and always gives opposition defenders something to worry about. The Norwegian is also not afraid to have a shot now and then from a free kick, in which he has produced sublime goals from the set piece.
Aswell as his corners and free kicks, Pedersen is also a threat in delivering long throws. Although, the master of long throws is arguably Rory Delap, Pedersen has assisted on several occasions via the long throw, especially with the scorer being defender Christopher Samba.
Pedersen is a constant threat from set pieces.
This season has remained the same as Pedersen has been a constant face in Blackburn's starting eleven with Sam Allardyce at the helm.
The Norwegian has so far dished up five goals and four assists in 25 games this season for Rovers.  To the present day, Pedersen has featured 225 times for the Premiership club and has amassed 38 goals and 45 assists.
As well as featuring in his club's starting 11, Pedersen has represented his International side on 54 occasions, scoring 12 goals. With his performances for Blackburn, Pedersen has become one of the first names in the Norway senior squad.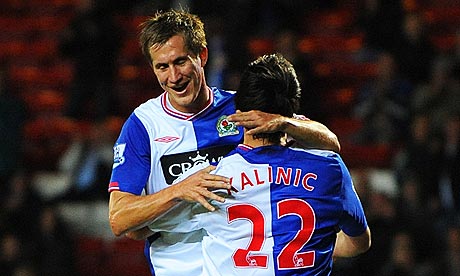 Pedersen has featured 54 times for Norway.
Monday's Goalkeeper Special Premiership Player Profile – Brad Friedel (by gavh)