Crystal Palace 1-2 QPR , 2/10/10
There are some aspects of football that are unique to the sport. Like the aroma of a steaming hot Pukka Pie before kick off, Ian Holloway or the Monday morning feeling at work following a well earned 3 points. Or the pleasure of witnessing a 90th minute winner, the delirium of the psychotic nut-job to your left that you call a 'fellow fan', the way you willingly hug anyone nearby without even the knowledge of their name, but most importantly is the fact that you have stolen 3 points and there is no way back for the opposing team.
That's all well and good for those fans, but upon the other end of the spectrum lay a far more subdued bunch of miserable spectators, enviously staring at the crazed animals locked in their pens. Marmite. You either love it or hate it and last minute winners most certainly fall into that category.
'Marmite man, Neil Warnock'
And so does QPR manager Neil Warnock. For years, he was hated by football while Sheffield United boss. But having toned down his attitude somewhat, he took a break from the game after seeing his beloved United somewhat unfairly relegated from the Premiership, then sought after pastures new. The vacancy at Palace intrigued him and he settled into his new dugout seat with relative ease, leading the team to the play-offs in his first season. Warnock was being loved again by Palace fans and media alike as we all saw a different side of the fiery lion-heart he once was.
But that was in the past. Warnock left Palace when things looked bleak, we were unjustly battling relegation and fighting to build form following a points deduction. I think the term is 'jumped ship'. He said he wouldn't leave us and wanted to end his management career at Selhurst, but the hotseat at QPR came begging and with a transfer budget fit for a King, he duly left.
But they still took Hill and Derry from Palace for free
But now onto the match itself. Warnock had whet his appetite for this encounter by once again speaking to the media about us and engaging in some mind games pre-match. He began by suggesting Palace were not where they deserved to be, perhaps challenging for the play-offs in his opinion would be closer to the mark. You could feel the embarrassment of all Palace fans sheepishly denying this allegation, indicating that we do in fact belong in the depths of the league due to under performing, especially away from home.
Adding to that, he heaped an almighty amount of pressure on wonderkid Wilfried Zaha by saying that he would fit right into any Premier League team. Considering he has played a handful of games for the side following a debut under Paul Hart last season at just 16, you would expect young Wilf to go into his shell a bit or even have a marred performance with all eyes on him. Having extended highlights on BBC's Football League show cannot have helped matters.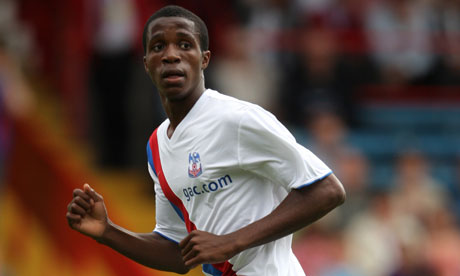 Premiership quality at only 17
But Warnock was right to point him out as one of our main threats. The pressure to deliver had backfired as everyone witnessed Wilf's ability as he laid Palace's equaliser on a plate for fellow rookie Kieron Cadogan to slot home. Warnock had not identified Kieron as a risk obviously.
But Palace were facing a strong QPR side, deservedly top of the league after a blistering start. Jamie Mackie had 8 goals coming into the game and Adel Taarabt has a case for being the best player in the league with an array of dribbling skills, capable of beating many Premiership defenders. 23 points from 9 games and unbeaten in the league, Rangers were looking for another team to simply brush away while Palace aimed to cause a mini upset and keep distance between themselves and the bottom 3. Without influential midfielder, Darren Ambrose, who Warnock tried to steal from Palace in the summer for next to nothing was unfortunately unable to broadcast his abilities and show the Rangers boss what he had missed out on.
However, the contest began against the odds, an Andrew Dorman shot rebounded off a post in the 4th minute as the Eagles began stronger. Rangers, like the post, were rattled and were thankful to 'keeper Paddy Kenny by making a swift double save from hotshot Zaha. Thankfully, the stopper was only fuelled by Lucozade having returned from a drugs ban in April.
It was then Speroni who was being called upon, reacting smartly to deny first Helguson then Taarabt's fierce drive. Moments later, Mackie destroyed Palace's offside trap, leaving himself one-on-one with Speroni, ending in the latter expertly preventing a Rangers opener.
Speroni was not the only one to thank however for saving Palace, as the post came to the rescue in front of the Holmesdale Road end. Confusion in the area resulted in Heidar Helguson beating one man before firing in a cross/shot along the byline 6 yards from goal. Kaspars Gorkss was in the thick of it but the ball actually came off of a defenders head as the ball cannoned off of the frame of the goal.
Gorkss was a thorn in Palace's side all match
With seconds remaining in the first half, the ball fell loose in the QPR box, Palace's Dorman was first to it as he fired a goalbound effort into the legs of Clint Hill who himself had covered plenty of ground to dive infront of the attempt. Replays showed that Kenny would have had no chance had ex-eagle Hill not been there. A corner was awarded and Dorman himself swung it in right footed, landing on the unmarked Julian Bennett's head, only to see it cleared off of the line, much to the despair of the home crowd.
Half time arrived and with honours even the crowd were forced to watch the new Crystal Spirit cheerleaders. At least both sets of fans could agree on something at the end of the match and the girls gave fans the chance to debate upon who was the most talented afterwards in the pub. I mean, who needs football at the end of the day, huh?
Anyway, the second half began rapidly, perhaps too rapidly for the elderly Edgar Davids, who was making his home debut, as the Dutch legend lazily played a weak backpass to Speroni, only for Mackie to anticipate and steal in. He rounded Speroni with relative ease, forced Bennett to commit, before teeing up the patient Taarabt to make it 1-0. Perhaps you should have gone to Specsavers, Edgar? Apologies.
'Are we in hoops or stripes?'
Having substitued Pablo Counago for Kieron Cadogan at half time, the long ball game was ineffective. Rangers simply outmuscled Palace's young attacking trio of Zaha, Cadogan and Djilali easily, and dealt with the ball in a much more efficient way than them, putting Palace under pressure, constantly moving the ball forwards and threatening the goal Palace had peppered in the previous half. Meanwhile, Kenny was only troubled the once and not by the opposition. Hundreds of pieces of card had been launched onto the pitch after a pre-match demonstration in support of the team, each fan trying their hardest to hit the QPR custodian. While taking a goal kick, one fan managed it and recieved the wrath of Kenny, who could have been hit with a bullet to the unknown, such was his fiery reaction.
Helguson rifled in a thunderbolt from 30 yards which Speroni dealt with comfortably before Palace mounted a fightback. Succeeding a spell of possession, mostly organised by young loanee Alex Marrow, Zaha fired in a cross which Kenny half dealt with. He had spilt it no more than 2 yards in front of him but no man in red and blue was in the vicinity and Kenny gobbled the ball up gratefully. Kenny then reached for a free kick but under pressure he missed the ball completely. To his relief, the ball somehow missed the post by a fraction. Soon after, the ball broke to Zaha on the far side again. Having beaten Hill for pace earlier in the match, he knew he could repeat the action with space ahead of him. He wandered into the area, stepovers aplenty, flashed a rabona and generated space. A cross came in for the onrushing Cadogan to shin the ball into the net, sending the Palace fans wild. The scene was reminiscent of a mosh-pit, a last minute goal to earn a well deserved point. Such was the excitement, one fan ran onto the pitch to celebrate, receiving a high five from Bennett before leaving in handcuffs.
The one Warnock didn't warn us about
Following the madness, the young squad switched off. A point had been sealed to their knowledge and a QPR fightback was unrealistic at this late stage. However, they had obviously forgotten their revival against Derby in August when Rangers were 2-0 down in stoppage time and drew 2-2. Drawing forwards, the visitors looked determined, like a rejuvenated beast seeking its prey. A cross floated in with 2 minutes of stoppage time remaining with Speroni and Helguson contesting. Speroni, being favourite, leapt up with two hands. The crowd expected nothing less than a routine catch.
As the ball nestled in the unguarded Palace net, shock and ecstasy were the main emotions. Palace players surrounded the referee, pleading for him to cancel the goal as Helguson reeled away to party infront of the travelling support. What had happened? Speroni had it! Replays showed he didn't. He had made an uncharacteristic mistake and allowed Helguson room ahead of him, who to be fair had made minimal contact with the keeper. A punch would have done it, it would be 1-1 if Speroni had punched it. And he knew it too. Such was his desperation to get the goal chalked off, he received a booking.
Nowhere to hide for Jules
Warnock was full of praise for Helguson post match, hailing his late header and playing down the accusation that Speroni might have been fouled. He had words for the young Palace team too, backing up his opinion that the club shouldn't be so far down in the league. The comments fell on deaf ears as sulky Eagles ignored the smug Yorkshireman and bemoaned the inexperience showed in defending a point late on, a fact backed up by manager Burley. Palace sit second bottom now while QPR sit proudly atop the league after 10 matches, unbeaten still with 26 points out of a possible 30.