An impeccable cross into the area followed by hesitation of the slightest requirement from 'keeper Jim Leighton and a volley struck with critical accuracy. The hoards of fans in red and blue danced upon the newly fitted seats of Wembley Stadium having witnessed what they thought would bring silverware to the bare Selhurst cupboards at long last. Scoring his second goal of the afternoon, an clinical and exciting striker had unwittingly brought Palace as close to the FA Cup trophy as they have ever been.
Ian Wright, in Carlsberg terms, was probably the best player to have ever graced the SE25 pitch in a red and blue shirt. During a golden era when many top quality players were classified as Eagles, Wright stood above the rest, demonstrating a keen eye for goal.
 'Supersub'
As a youngster, Southend and Brighton had offered Wright trials, but he'd failed to win a contract with either. Returning to his day-job of plastering and hobby of playing football, Palace scout, Peter Prentice spotted him in a match for Greenwich Borough. Following a more successful trial, Steve Coppell offered the raw 21 year old a deal worth £100 a week. Wright was to repay Coppell with interest immediately, scoring for Palace on his debut, a feat which he repeated at every club he played for.
The 85/86 season ended with Palace finishing 5th, 10 points behind 3rd. However, it had been somewhat fruitful for Wright who notched 9 goals in his debut season. He was further helped by the summer acquisition of Mark Bright in 1986, leading to one of the deadliest attacking duos of the 80's.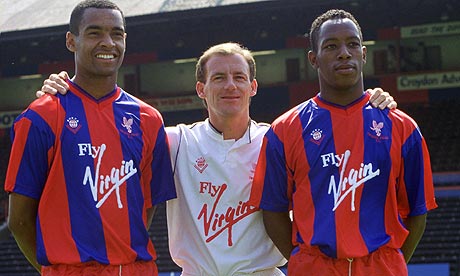 Coppell beats the BBC by signing these pundits early!
It wasn't until 1988 when the first signs of a fearsome partnership began to evolve. Having flirted with the top end of the table for a few years, Palace once again missed out on a spot in the end of season play-offs. Wright was probably more frustrated as his 23 goals warranted significantly more than another failure in Division 2. His patience would soon pay dividends however.
The next season, Wright managed an astounding 33 goals as the club finished in the play-offs at long last. Trailing 1-0 in the first leg to Swindon, Palace quickly evened the scores in the second match, then Player of the Year, Wright, struck the winner, sending the team to the final versus Blackburn Rovers.
3-1 down after the first leg at Ewood, Palace fortunately had the second leg at home. Although underdogs still, Wright lifted the crowd with an early finish and straight after the break, Dave Madden levelled from the spot. Palace had the momentum but held on for extra-time and waited an age to witness a Wright header seal promotion.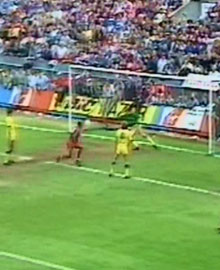 The winning header vs. Blackburn
Earning a call-up for the England B team the next December was a wholesome reward for Wright's efforts but unfortunately his debut season in the First Division was cut short as he painfully cracked a shin bone. It would be used to his advantage however come the Cup Final.
Unfairly, this injury prevented Wright's participation in a cup run and tie against Liverpool at Villa Park. A painful 9-0 defeat months earlier made the game an easy one to predict on paper, but the greatest game in Palace's history ended more dramatically than anyone could have imagined. Alan Pardew (below) scored the winner in a titanic battle that ended 4-3 (extra-time again!).
A bit irrellevant but nevertheless iconic
Alex Ferguson, who had yet to win over the United faithful, awaited on a sunny May afternoon. Bryan Robson scored to make it 1-1 at half time after a Gary O'Reilly header had given Palace the lead. United were 2-1 up by the time Wright was introduced in the 69th minute on his comeback from injury and duly made up for lost time with first a run and shot from the right beating Leighton 4 minutes after his arrival, and then volleyed in to make it 3-2 in extra-time. The 'supersub' looked to have won it for Palace, up until Mark Hughes levelled again to force a replay which United won by a solitary goal to present Ferguson with his first piece of silverware as United boss.
The disappointment reigned for no longer than a few months. Wright earned a 1st senior England cap and reached 100 goals for Palace the next season. Palace ended it in 3rd place and the silverware even arrived, albeit a year late and a different but nonetheless priceless trophy. The Full Members Cup sits proudly inside our tiny cabinet, thanks mostly to Mr Wright who pinched 2 in the final against Everton as Palace triumphed 4-1 aet.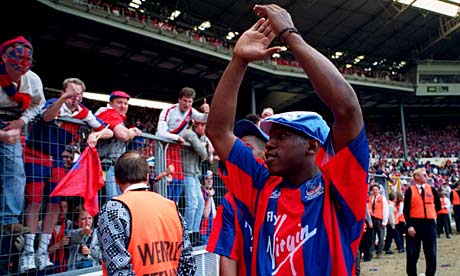 Full Members Cup Winner 1991
Sadly, Wright was sold in August 91 to Arsenal for £2.5 million, finishing with the golden boot that season. He was named in Palace's Centenary XI and further named the Player of the Century for being the club's record post-war scorer. He culminated with 117 goals in 277 games for us and proved his class by scoring numerous and top quality strikes. To be classed as a great at 2 clubs is simply a mark of how good Ian Wright proved to be during his career as he became Arsenal's record scorer in September 1997.