Football player: an athlete who plays football.
When I typed "Football player" into Google, I received the above definition. How is it possible to name someone the best "player" in League Two when the word "player" is so vague? Surely it's impossible to compare a goalkeeper to a winger? Or a centre back to a centre forward? Sure, we could say that a certain player performs his role better than another performs their's, but then you have to consider whether one role in a team is harder than another.
Obviously, it would be an easy way out if I was just to harp on about the signings Notts County have made. The majority of them were first team players at clubs at least one division above County, therefore they definitely have a pedigree higher than League Two. Fair enough, I'd say Kasper Schmeichel, having played a number of first team games at Man City and commanding a rumoured transfer fee of £1.5 million is probably the best keeper in League Two, but what about the other positions?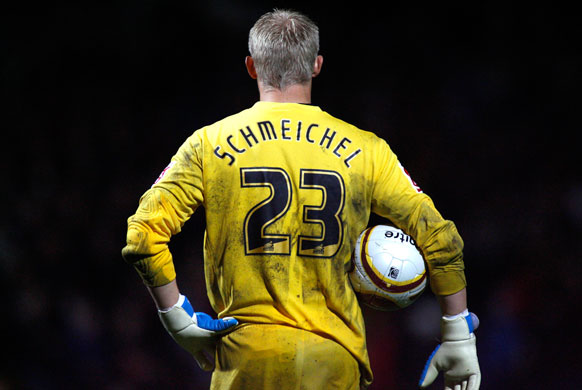 Kasper Schmeichel: £1.5 million worth of goalie?
Being a Rochdale fan in exile, I struggle to get to as many games as I used to. Also, I find that in the lower league's, player's form can fluctuate from season to season (just ask Andy Bishop!). As a result of this I can only make a judgement on players in the few games I've seen this year.
By far the best defensive performance I've seen this season was from Burton captain Guy Branston. Journey man Branston, who is now at his 15th club in just 12 years, gave an impeccable display to ensure his team held on to the 3rd minute lead they gained through Richard Walker. I knew what to expect from Branston as Rochdale were in fact on of his 15 clubs a couple of years ago. He was no nonsense, just not that good!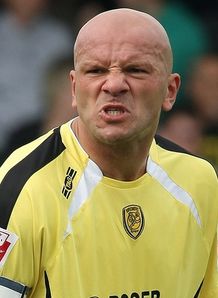 Guy Branston: No nonsense!
In terms of creativity, two players stand out for me. Barnet's Albert Adomah has looked an absolute cut above the rest of his team every time we've played them and the interest from Championship clubs is no surprise. Every time he gets the ball his pace is a massive threat. The only thing that lets him down is his attitude. Adomah was plucked from non-league Harrow in January 2008, and after just five months at Barnet he handed in a transfer request after hearing of interest in him, loyal eh?
The second player I have in mind is our very own Will Buckley. Named 49th in The Times' list of 50 rising stars in the world, Will is destined for bigger things. Having broken into the first team in early 2008, the tall winger has cemented himself a place on either wing and has attracted many admirers, including Bolton boss Gary Megson. A free scoring winger who draws fouls a plenty  from opposing defenders, Buckley is no doubt destined to leave Spotland in January, so I'm just making the most of seeing one of the most talented players in Rochdale history before he's taken away from us.
Will Buckley: Destined for greater things
Finally, there are plenty of strikers who stand out. You only have to look at goal tallys over the last two years of players such as Andy Bishop, Jack Lester and Adam Le Fondre to realise that this is too close to call. Also then you have players like Chris O'Grady who, despite not being prolific, plays an imperative role in providing lay off's and flick on's for the rest of his team.
So there you have it, not quite a definitive answer, but a subjective view at an ambiguous question.