Four months into his reign as Aston Villa manager, Frenchman Gerard Houllier has certainly crammed in a host of talking points. Before his reign had even officially began, Houllier speaking in his first press conference since his appointment was announced, informed the media that his ongoing commitments to the French F.A. prevented him from signing his contract at Villa Park and was unaware as to when he would be able to do so.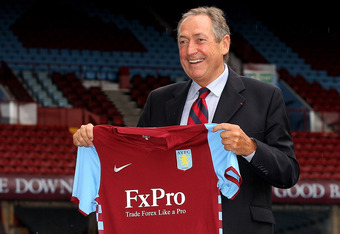 This was a comical start to life at Villa under Houllier following the disastrous opening to the season and departure of Martin O'Neill a week before the first game of the campaign. With the club in potential turmoil, villa fans simply hoped for a sense of stability and new optimism under the Frenchman. The fact that Houllier was not officially in charge and the club had little if any backroom staff simply added to the concerns off all connected to the club. Many believed the drama surrounding the confirmation of Houlliers appointment was simply a minor blip which would attend to itself in time. Not many people however could have envisaged the events which were to follow over the coming months.
The appointment of Houllier certainly surprised many people. The Frenchman had been out of management since leaving Lyon in 2007 and had not been a part of the English game since 2004. His departure from Liverpool was in large due to the health problems Houllier experienced during his time at Anfield which culminated in an emergency operation when he suffered a dissected aorta. This medical background and the fact the English game had changed so much in his absence led many people to be shocked by Randy Lerner's decision to appoint the 63 year old. Houllier insisted that he felt healthy enough to meet the demands and challenges of life as a Premier League Manager once again. Many felt that would serve the best judgement as to whether his return was the correct decision. The decision was met with contrasting opinions.
As mentioned many were surprised by the appointment with the likes of Alan Curbishley having reportedly been interviewed on two occasions for the job. Kevin MacDonald who had been placed as caretaker manager following O'Neill's departure was a very popular choice with most of the playing squad who he had worked with for a considerable period of time, most notably those members of the first team squad who had been a part of the clubs youth system.  However Lerner declined to offer the Scot the job with the 6-0 defeat away to Newcastle and exiting the Europa League in the qualifying rounds cited as reason as to why MacDonald was not chosen to be manager. It led many to believe that there was simply not enough managerial choices out there at this moment in time considering how near to the new season the appointment would be and the fact any new manager would almost certainly be unable to make any additions to his squad of players. Houllier's links to the French F.A. and the youth development in France excited many villa fans and was seen as a strong point to his appointment.
The first task facing Houllier was to appoint members to his backroom staff and most importantly an assistant manager with who he would work alongside. Houlllier approach Kevin MacDonald to be his assistant though having had a taste of the manager position himself the Scot declined the offer and returned to his role as Reserve team manager. Next Houllier contacted old friend Phil Thompson with whom Houllier achieved success at Liverpool, most notably the treble winning season of 2001. Thompson who had been working at Sky Sports since his own departure from Anfield felt that the timing simply was not right to work with Houllier once again citing family reasons for his decision to turn down the job.
As a result Houllier had to look search out a third option and approached a man who had proved to be a shrewd signing previously as a player. Gary McAllister was signed for Liverpool in 2001 at the age of 35 but would go on to play an integral part of the success the reds had that season. As his playing days came to an end, McAllister had management stints at Coventry City and Leeds United with neither position bringing much success. McAllister was working as Gordon Strachan's assistant at Middlesbrough when approached about the job at Aston Villa who duly relieved McAllister of his duties. Houllier followed the appointment up with installing Aston Villa legend Gordon Cowans as first team coach and the controversial Robert Dunverne, who was part of the infamous French world cup 2010 coaching staff, as First team and fitness coach. Weeks of frustration in formulating a team of coaches was at an end and the club began to implement new training methods and tactics.
The first game under the new regime was a Carling tie against Blackburn Rovers with Villa winning the match 3-1. A few days later Houllier's first league game was a difficult trip to local neighbours Wolverhampton Wanderers with Villa winning 2-1 thanks to a late Emile Heskey header. Life it seemed under Houllier was beginning to take shape. However problems soon began.
Robert Dunvere had been instructed to improve the fitness levels of the squad who had been criticised in previous seasons for lacking stamina in the closing stages of games. This was to coincide with a growing injury list at Villa Park with key first team regulars such as Stylian Petrov, Nigel Reo coker, John Carew, Gabriel Agbonlahor, Carlos Cueller, Steve Sidwell, Luke Young and Emile Heskey all facing spells on the sidelines. Villa was fored to rely on in experience youth team player such as Ciaran Clark, Barry Bannan, Marc Albrighton, Jonathon Hogg, Nathan Delfeouneso and Eric Lichaj to come into the side.
Many of these youngsters produced promising displays but their lack of exposure at this level was no more evident than the home clash against Manchester United. With the likes of Hogg making their first team debut Villa produced a strong display and stormed into a 2-0 lead. However tiredness crept into the Villa side and United were able to claw their way back into the game with goals from Macheda and Vidic as they match ended in a 2-2 draw. Of course such a result would have been taken before the match but it left alot of frustration amongst fans. Many accepted the performance was strong considering the squad of players at Houlliers disposal but many were still bewildered that despite so many long term absentees, certain senior players still failed to get a look in, most notably Steven Ireland.
Signed as part of James Milners departure to Manchester City, Ireland was seen as an ideal replacement and a promising talent who had simply lost his way at City with the influx of world class talent within their squad. However weeks into his life at Villa Park and the Irishman was publicly criticised by Houllier for his poor performances in training. It led to Ireland being left on the bench and rookie defender Ciaran Clark even being preferred as part of a new look midfield. It baffled many people as to why Houllier was unable to get anything out of such a talented player. Was this signs of weakness in Houllier's return to management? After all it is not as though Houllier has not had to deal with individual characters during his managerial career, having worked with the likes of Robbie Fowler at Liverpool and Sydney Govou at Lyon who were known for their outbursts. Here lied a clear clash in characters between Ireland and the management. The coaching staff were left frustrated by his efforts and in turn the player by his lack of playing time. It was no surprise that Ireland's agent confirmed that the player would be looking for pastures new in the January transfer window. The relation between the management and players is a point of serious observation during Houllier's time at Villa.
The departure of Martin O'Neill was to please certain members of a noticeably divided squad of players. Players such as Curtis Davies grew tired of their lack of opportunity under the previous manager with O'Neill clearly having his favourites. The club now had half a squad filled with optimism and the other feelings that the positions within the side they had made their own were now under threat. To me such a scenario should if anything sparks togetherness through competition for places and a desire to wear the shirt. Too many modern day footballers are criticised for being happy to pick up their wages at the end of the week rather than fight for a place in the starting 11. The youth team members of the Villa squad were certainly pleased with the change in management as the opportunities that now faced them were in stark contrast to the few substitute appearances the likes of Delfouneso made over the last two years. The young striker had recently knocked the manager's door demanding more game time or a move away on loan. In response Houllier informed the teenager that he was a vital part of his plans and the current injury situation would make a move on loan impossible. Whether this is a clear vote of confidence in the youth players at his disposal or an acceptance that Houllier has to rely on every member of his squad at this difficult time is open to debate. He has been noted as identifying Barry Bannan as a player with a big future ahead of him and someone who should look towards the likes of Barcelona stars Xavi and Iniesta and inspiration for players who have made it at the top despite their small frame. A huge criticism that can be put towards many managers is the signing of players for the 'future'. There always has and always will be an array of young promising talent signed with huge reputation and many of which failed to fulfil this promise. As exciting as such signings can be managers need to also focus on the present. The signing of players and the amount of money available to Gerard Houllier has been open to much debate.
Randy Lerner has been criticised of late for his lack of transfer activity at Villa Park. With Steven Ireland being the only piece of business to come into the club during the summer, many fans have questioned where the money received for James Milner has gone. This has led to suggestions that the financial situation at Villa Park played a big role in Martin O'Neill's departure. Yes O'Neill had been backed well in the past by Lerner but with Tottenham and Manchester City now posing such a threat to the top four, if Villa were to keep up their challenge over the last few years they would need to compete in the transfer market. The signs suggest that Villa for the time being at least will be unable to do so. Let's look at the facts. Houllier came into the club after the transfer window making him fully aware that signings would not be able to be made until at least the January transfer window. His first purchase as manager was the signing of 37 year old free agent Robert Pires on a contract until the end of the season. Pires had not played in England for four years or in an competitive game for seven months since leaving Villarreal. The speed of the game in England had changed dramatically in Pires' time away. Signing a player way beyond his best days was not exactly the signing villa fans had anticipated. Pires' experience and usefulness in training with the younger members of the squad were cited as reason for the signing. If that was the case then why was a coaching role of some sort not included for the Frenchman? He made his first start in Claret and Blue against his former club Arsenal and after the 45 minutes found the going tough and was unsurprisingly replaced. Since then, Pires has publicly criticised Houllier for his lack of playing time and has suggested that Houllier currently possesses a divided camp of players with which he has only two games to save his job. For an individual who Houllier brought into the club himself to then publicly criticise the manager arouses many questions about the chemistry in the squad. First team regular Richard Dunne was reported to have exchanged words with Gary McAllister over training methods which coincided with the Irishman being dropped from the side. McAllister and Houllier played down the incident insisting that the decision to leave out Dunne and the likes of John Carew were purely down to footballing reasons. This is despite John Carew insisting that his inability to be considered for selection of late was due to an injury, this is an injury which the medical staff at Aston Villa is yet to confirm. So Houllier is faced with a dilemma. He has a squad of players who clearly are not all behind his methods and an undeniable need to strengthen the squad when funds appear to be non-existent.
Kyle Walker recently joined on loan from Tottenham Hotspur until the end of the season to provide cover at right back with the long term injury of Luke Young and the club having had to play Centre half Carlos Cuellar and the in experienced Eric Lichaj in the position. Walker impressed on his début against home team Sheffield Untied scoring in the 3-1 victory at Brammall Lane. Houllier has clearly purchased a promising talent who slotted well into the side. Yet it is of concern for fans that the club have to approach rival teams in the league for the signing of players of loan. The performances of Walker in the long run can certainly only be of benefit more so to his parent club Tottenham. Walker had been a regular on loan to Championship leaders QPR prior to his transfer to Villa Park. This would suggest that for the transfer to have taken place Walker has been promised first team football at Villa. He has been impressing as part of Neil Warnock's' and to decide to leave the club for the possibility of sitting on the bench seems unlikely. If Walker is to succeed at Villa, which his debut would suggest, then surely Harry Redknapp will bring the youngster back into the fold at White Hart Lane and leave villa in search of another player.
As much as i have discussed the need to sign players for the present as much as the future, it would appear that loan signing is a route Houllier is having to venture down and this does not necessarily bode well for the club. With neighbours Birmingham City in discussions over signing Kenny Miller from Rangers for as little as £700,000 many villa fans question why the club is unable to compete in the market. With the blues in further discussions about signing David Bentley and Robbie Keane, Villa's rivals are doing exactly what the club need to do themselves. They are addressing the present by bringing in players of proven quality who will only go towards ensuring the clubs Premier League status. The results of late have to leave Villa's hierarchy being realist. The club is facing a relegation battle and reinforcements are paramount to helping the situation. So what has been done to tackle the situation? Colorado Rapids Jamaican international striker Omar Cummings has been brought in on trial with a view to a loan move until March, pending the approval of a visa. Cummings holds a decent record in the MLS but is unknown for his ability in European football. To date the 28 year old has scored 30 goals in 90 appearances in the MLS and seems to know where the net is. Villa surely in their current predicament requires a player of proven credentials in the English game. Robbie Keane is exactly that kind of player, a man who throughout his career has been linked to Villa Park, despite his ill fated stint at Liverpool and lack of playing time of late, it cannot be denied that when Keane is given a run of games where ever he has been he is able to find the net. This would not be anywhere near as much of a gamble as signing someone such as Cummings. The only reasons i can gather someone like Keane is at least not being considered has to be the player's wages. Randy Lerner has made it no secret that villa need to cut their wage bill dramatically. Currently the yearly wage bill at Villa Park is £12 million more than that at Tottenham and a further £21 million than Everton's. It baffles me to hear reports Villa need to cut players wage bill when further reports confirm Villa's interest in signing Wayne Bridge on loan, a player earning £90,000 a week with Villa apparently prepared to meet this. These kinds of wages dwarf the earnings of Gabriel Agbonlahor and Steven Ireland, both of who are amongst the clubs highest earners on £65,000 a week. Lyon midfielder John Makoun has been identified as a potential signing by Houllier though the Frenchman has stated that the price tag of £7 million may prove too high for the club. This reinforces my belief that whilst Houllier is clearly trying to strengthen his squad he has his hands tied behind his back and limited as to his signing of players. This is why i see Villa going down a loan signing route and trying their best to avoid paying over the odds for players. Reports today suggest the club failed in an attempted £2.5 million offer for Blackpool Midfielder Charlie Adam. Villa's recent activity suggests this is a target the club will not re visit and a bidding war will not ensue. The club needs a quick fix fast though uncertainty remains as to who shall be signed.
Performances under Houllier have ranged from impressive to purely abysmal. The games at home to Manchester United and away to Chelsea saw Villa attacking on the break in a similar style to which they had become renowned over the last few years. Yet these encouraging displays have been met with arguably some of the most woeful performances by a Villa team in the Premier League. The games at Liverpool and Manchester City cannot be described anything other than embarrassing. In particular the game at Anfield was against a side that had been struggling for form themselves and missing the likes of Steven Gerrard and Fernanado Torres. This was a team that was there for the taking. Instead Villa turned in an unacceptable performance with Dunne and Ireland most notably producing shocking displays. Dunne was dropped following the game and Ireland has not appeared since. The game at Manchester City was no better with Villa already 3-0 down at the half-time interval. The second half was more like a training game for city who coasted their way through the game until the final whistle and a 4-0 victory. In some respects this result was harder to take, not due to the lack of adventure and effort posed by the team but the fact the opposition consisted of two of our star players from previous years in James Milner and Gareth Barry. Either player's effort or commitment could ever be brought into question when playing in Claret and Blue. Its these kind of performances and the standing in the league table that has led to questions about the future of Houllier. The team appeared to go some way towards answering his critics with an impressive performance in a 3-3 draw away to Chelsea. Villa had led for much of the match and having let the lead slip in the final few minutes were able to find the equalising goal in stoppage time. The side had a resilience and togetherness about it which had been missing for some time. Notably it was also the strongest side Houllier had been able to field in some weeks with the return of Reo coker and Petrov in the midfield with Heskey playing upfront supported by Ashley Young and Gabriel Agbonlahor. Villa posed a serious threat on the break and it was a confident performance for Houllier in what was a big week. He chose to stick with the same side for the home game against Sunderland three days later. Having started the game brightly and missing a great chance through Emile Heskey, the game took a turn for the worst when the striker got himself sent off for striking Jordan Henderson in the face. Villa would go onto lose the game 1- 0 and Houllier was met with chants of 'Your getting sacked in the morning' from the Holte end. This week more than most typified what a difference a few days and results can make in the life of a manager. It saw Villa slip into the bottom three for the first time since 2003 and facing a difficult trip to Birmingham City in a week's time. Arguably it is the biggest derby for many years for Aston Villa. As much as personal pride is at stake, Villas standing in the league is of more importance. There is not much between teams from 12th downwards in the league and with tough games coming up against the likes of Manchester City and Manchester United it is vital Villa pick up whatever points they can.
Houllier's reign to date has certainly not gone according to plan. The club has struggled considerably in the league and face a difficult end to the season. Understandably Houllier has been face with a series of injuries to key players, many of which have been caused by the clubs new training methods, and this has in turn impacted upon results. Very rarely this season has Houllier had the chance to pick a full strength side. Many key individuals when not injured have lacked form and consistency. Agbonlahor is still yet to get off the mark in the league this season, James Collins and Richard Dunne have looked a shadow of themselves from last season and Steven Ireland's time at the club has been a disaster. Young players such as Clark, Bannan and Albrighton have produced promising displays and seem to be a part of Houllier's long term plans, yet it is too early to state how long their overall development will take. With these young players emerging it is vital senior members of the team such as Ashley Young and Stewart Downing perform consistently. Young has constantly been linked with a move from Villa Park but his inconsistency always leaves a question mark next to his name. For every good performance he produces they are met with a series of poor games. Now the player along with Emile Heskey sits out the next three games due to unnecessary suspensions. Houllier has insisted he has the support of the squad and there is unity in the camp. Comments from the likes of Robert Pires would suggest otherwise but it is important Villa return to winning ways fast. Having gone out of the Carling cup to Birmingham City and starting a relegation battle in the face, Houllier needs a change of luck. A fourth round F.A. Cup home tie against Blackburn Rovers is by no means an easy task but provides Villa with some rest bite from the difficult task currently facing them in the league. Villa seeks new additions to the squad as they are clearly low on numbers. It seems that for this transfer window at least Houllier will have to rely on loan signings in order to bolster his side.
The decision to stand by Houllier does not surprise me. He would have been fully aware of the clubs financial situation before taking the job and that the January transfer window would be his first chance to add to his team. Had Houllier not been satisfied with the conditions then surely he will not have taken the job. It would seem that Villa's board will be happy this season to survive and spend as little money as possible. I sense a period of considerable transition is upon us at Aston Villa. If Houllier is to still be around in the summer expect to see a lot of changes with the likes of John Carew unlikely to pull on an Aston Villa shirt again. This season for me is going to me very much so more of the same. I expect a season full of frustration and players not playing to their potential. Much of the criticism can be placed on Houllier's shoulders but many of his senior players have simply let him down. The likes of Friedel, Collins, Dunne, Warnock and Carew have looked completely different players under Houllier. Our defensive record is the poorest in the league, whilst we continue to fail to convert chances in front of goal. Defensive additions and a striker are paramount this transfer window. As supporters we can only get behind the team but unless addition are made expect a long hard season under Houllier with very little to cheer about.